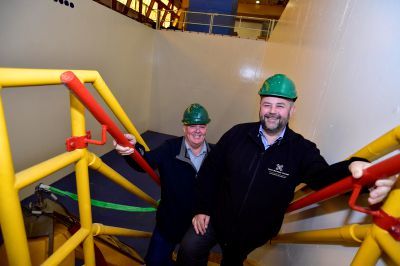 A subsidiary of north-east engineering company Score Group has unveiled a new deepwater test tank at its new facilities in Peterhead.
The tank, which is nearly 40ft long, 20ft wide and 20ft deep, holds about 95,000 gallons of water.
It is one of the largest indoor tanks in the UK for deepwater subsea testing purposes, with the ability to pressure test up to a maximum of 45,000 pounds per square inch.
Specifically built to be able to handle larger and heavier pieces of equipment, such as subsea trees and associated equipment, the new tank can also be used dry as a safe bunker for certain types of high pressure tests.
Score Subsea and Wellhead (SSW) also commissioned two gantry cranes, capable of lifting 10 and 50-tonne loads, to be used with the tank.
SSW operates from a 160-acre site on the south side of Peterhead alongside other Score Group companies.
Other specialisms of the subsea division, led by Bill Urquhart, include general and qualification testing, as well as subsea/wellhead, hydraulic, decommissioning and engineering design and consultancy services.
Group managing director Conrad Ritchie said: "We are delighted to announce this opening of this class-leading facility at a time when our industry continues to emerge from an unprecedented downturn.
"This investment is a bold statement of optimism and confidence in the economies in which we operate."