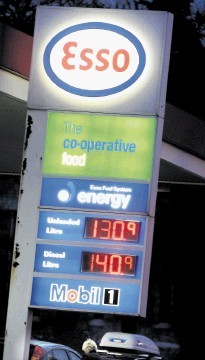 A big gap has opened up between petrol and diesel prices at the pumps, figures from the AA showed yesterday.
Petrol prices fell slightly between mid-October and mid-November 2011, with the average now 133.7p a litre.
In the same period diesel rose to an average of 140.95p a litre, the AA said.
The gap between the two fuels has only been wider during the big price rises in 2008, the AA added.
The gap is biggest in Scotland, with petrol 8.2p a litre cheaper than diesel on average.
On petrol, the AA said some independent retailers were undercutting neighbouring supermarkets by as much as 3p a litre.
Jason Moir, owner of Dyce Carriers, revealed that trade experts had said that running a 44-tonne articulated lorry costs £45 an hour in fuel charges, of which £25 was tax.
He said: "This information was given at a recent meeting of the Road Haulage Association in Edinburgh and this is before the normal winter price increases which will invariably be blamed on higher demand.
"Everyone is feeling it, not just transport companies – back in the day we were encouraged to use diesel as it was cheaper and greener.
"Many firms changed their vehicles to diesel as they were getting more miles to the gallon. The oil companies had us then and have been able to gradually put the price up so that it is now dearer than petrol."
Regionally, the most expensive petrol is being sold in London, averaging 134.8p a litre, while diesel is dearest in Northern Ireland at 141.8p a litre. Yorkshire and Humberside is the cheapest region for both, averaging 132.8p for petrol and 140.3p for diesel.
AA president Edmund King said: "The fall in the price of oil due to the eurozone crisis had brought some hope of respite for drivers but the opposite has happened for diesel car owners.
"The petrol price may have been falling overall, but it's dropped faster for some than others, and that adds to the frustration."
He went on: "Tuesday's House of Commons debate on high fuel prices offered little hope of a freeze in fuel duty, and diesel woes, if they continue, will intensify pressure on the Treasury.
"It may help them to note that the 15p a litre higher price of petrol and 18p for diesel, compared to a year ago, includes respectively a 2.5p and 3p-a-litre VAT windfall – if they're still wondering how to finance the freezing of January's 3.02p fuel duty increase."