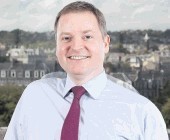 Talisman Energy said yesterday it was looking forward to an exciting future in the North Sea after completing the £956million sale of nearly half its UK assets.
Talisman said the deal with Chinese oil firm Sinopec had been approved by both the European Union and the Chinese government and had now been finalised.
Under the terms of the agreement for 49% of Talisman's North Sea business, the Canadian company and its Far Eastern counterpart will form an Aberdeen-based joint venture called Talisman Sinopec Energy.
The deal was announced in July this year, on the same day fellow Canadian company Nexen revealed it had received a £9.6billion takeover approach from the China National Offshore Oil Corporation. The Canadian and UK governments have since said they would not stand in the way of the Nexen-CNOOC deal, while the US must still make a decision because Nexen has assets in the Gulf of Mexico.
Speaking yesterday, Talisman Sinopec chief executive Geoff Holmes said: "Both shareholders are demonstrating their long-term commitment to the North Sea through investment in our UK assets.
"Talisman Sinopec Energy will work to deliver maximum value through a continued focus on safety, extending the field life of our assets and attracting and retaining talented people across the industry.
"The focus of the joint venture will be to invest in improving the integrity and performance of our assets.
"Today represents an exciting milestone as we work together to create an exciting future in the North Sea."
Among Talisman Sinopec's major projects is the £1.6billion Montrose area redevelopment which was approved by the UK Government in October, paving the way for two new fields to be unlocked and an extra 100million barrels of oil to be produced.
Talisman – which has invested £11.5billion since entering the North Sea in 1994 – said the joint venture had interests in 46 fields and operated 11 offshore installations plus an oil terminal at Flotta in Orkney.
Talisman Sinopec's daily production is around 96,000 barrels of oil equivalent per day.
The firm employs more than 560 people out of Aberdeen and nearly 2,000 contractors.
First Minister Alex Salmond said: "This partnership between Sinopec and Talisman is exciting news for the North Sea sector and demonstrates that there is still a long and valuable life to be had in extracting reserves from around these islands. This is just one of many emerging opportunities which is continuing to prove that Scotland's expertise in the oil industry has a bright future and I am confident that well over half of the value of hydrocarbons are still to be realised from the waters around Scotland."
Recommended for you

North Sea giants win big through INTOG floating wind auction