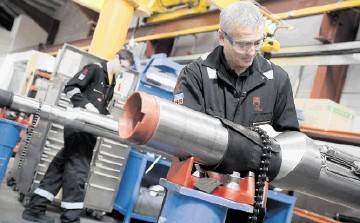 Simmons and Company International said yesterday its Aberdeen office completed nearly £1.5billion of deals in 2012, more than doubling the previous year's total.
The corporate-finance adviser to the energy industry said its Granite City team was involved in 14 mergers and acquisitions in 2012, out of 48 the company carried out worldwide.
Simmons' work included deals in the subsea, well service, drilling and completion sectors.
Among the transactions Simmons was involved in was the sale of Acteon to KKR in a deal thought to be worth up to £405million.
Simmons also assisted in sales of technology companies including Red Spider to Halliburton, understood to be for £40million, Zenith to Lufkin for about £80million and Nessco to Rignet for more than £31million.
The firm also represented Tetra Technologies during its £40million acquisition of Optima, and Phoenix Equity Partners in its acquisition of Gall Thomson Environmental. Chief executive Colin Welsh said the landscape of the industry had presented challenges in 2012, but added that the company's focus on energy businesses had helped Simmons in the past 12 months.
"Getting the best result for our clients in the current environment has been challenging, because the market dynamics keep changing as new buyers emerge and the sector becomes more geographically diverse.
"The industry is undergoing an incredible amount of change and growth and we need to keep on top of that and respond appropriately if we are to continue to be entrusted with mandates like these and deliver results that are at the top end of our clients' expectations."
Simmons employs 50 people across its Aberdeen, London and Dubai offices, with a further 100 at its Houston headquarters.
Recommended for you

Ithaca completes $1.5bn acquisition of Cambo operator Siccar Point Energy