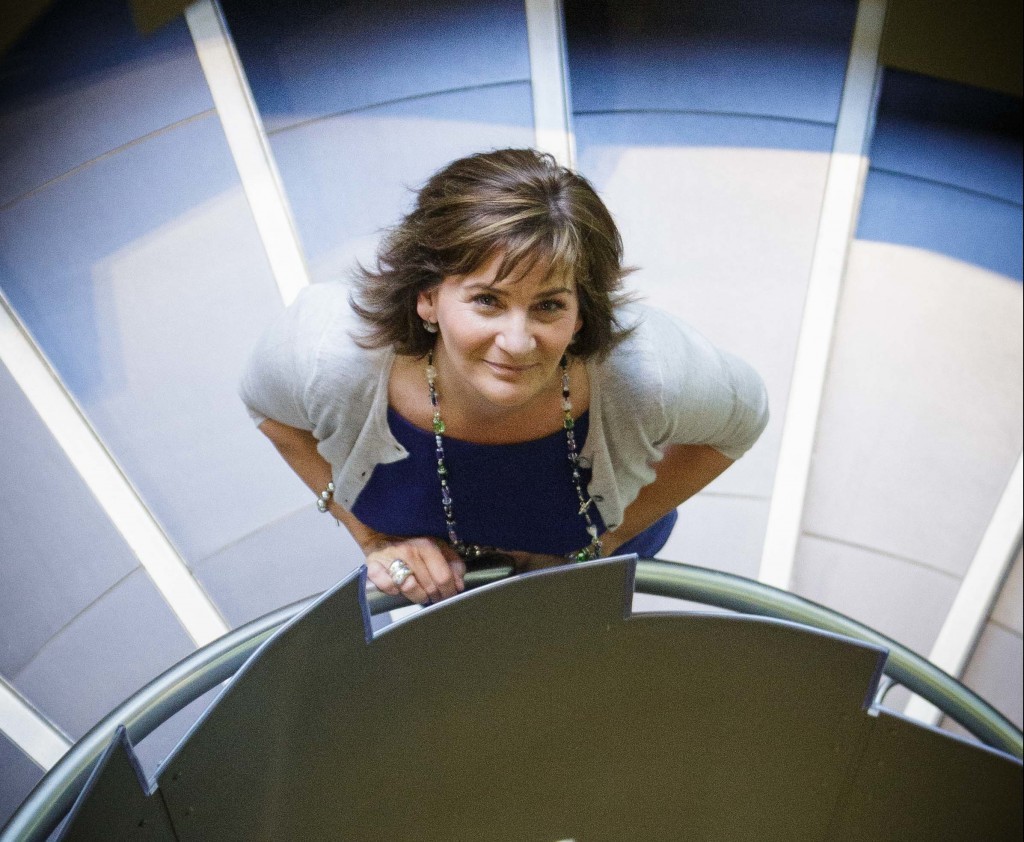 EXTENDED EDITION
Colette Cohen has moved almost 20 times during her career. By any standard hers has been an adventure . . . from starting out as the only woman on a BP platform in the UK North Sea, to today's role as senior VP, UK and Netherlands at Centrica Energy.
Born and raised during the troubles in the border town of Dundalk, Cohen is as Irish as they come. She is of that generation that grew up witnessing hunger strikes and heaven knows what else. It was a harsh time for all. Information of what could be studied at university was also hard to come by.
"The guidance for me, having come from a convent school was that I could be a doctor, dentist, teacher or a nun!," says Cohen.
In the event, she read pure and applied chemistry at Queen's University, Belfast, and appeared to successfully weather what was a violent time for the city.
"It was a fantastic city to go to university in because there was so much camaraderie and spirit of overcoming a troubled environment.
"I think that makes you potentially very determined and resilient as an individual.
"We would find ways to get to classes, even when roads were blocked off because of bomb scares.
"We would find ways of getting to our libraries to study when we were kicked out of our houses because of bomb scares and terrorist alerts.
"I know this sounds very bad, but I finished school at 16. There was no internet or anything like that to do research. So you turn up at university to discover there's chemical engineering, which you would have loved to have done."
But Cohen didn't get that opportunity as the parents were paying her fees and she didn't want to burden them with an extra year's worth of tuition and living expenses as her father had retired. So pure and applied it was.
This was a time when young people were leaving Ireland (north and south) in droves, looking for a better life anywhere but their birthplace.
However, Cohen determined that she would only get on the ferry if there was a good job to tempt; in large part because she had the offer of reading for a PhD at Queen's.
"When I came out of university my thoughts were, if I'm going to leave Ireland I'll only leave for a really good, interesting job and I was wanting an engineering type role.
"I applied to only a few companies and BP was one of them. At the interview, what they were offering for a hard-core engineering or science graduate was really a retraining in petroleum engineering.
"It would be an offshore working environment as a production engineer; it seemed fabulous and the salary was pretty good. Yet I was still torn because I had an offer to do a PhD in catalysis, which was one of my favourite areas of research."
Carrying some debt, the decision was made to go with BP but maybe return one day to do that PhD.
"The BP job was to be on Forties; it looked really fun, and I'd done bench chemistry for a number of years. So I thought this would be a great way (of clearing the debt). Then I would come back and do my Doctorate. But I never did because the oil and gas industry turned out to be a lot of fun.
"At that time BP probably had one of the best training programmes. They had a really great programme . . . very flexible and human. You had mentors and buddies and suchlike, so you learned from people with great experience.
"I had a super one; a guy called Tom O'Neill . . . Northern Irish.
"Off I go to Forties Alpha.
"When I landed there was a flotel alongside. I got off the chopper and looked across at the platform. It was a rust bucket. I thought, oh my God, I'm going to die. I can't possibly stay out here for two weeks. This is mad.
"And then I discover that I'm the only woman! And at that point there weren't cabins with en-suite bathrooms.
"You had to come out of your cabin to go for a pee. The first time I left my cabin to go to the toilet, I walked straight into two naked men!
"Let's just say that the language was a little flowery!"
It was quite a challenge. Initially I had a very different sets of OIMs; one who really didn't believe that women should be offshore; and two who were really supportive.
Indeed, one of the OIMs took a delight in bumping her off chopper flights for a short while, his point being that women apparently did not belong offshore. But one day he changed his tune, having decided that this young Irishwoman was OK.
One of the flight the heli-deck guys told me: "You create a different atmosphere offshore, and it's not a negative one. .
"For the first two or three rotations the canteen would go quiet every time I walked in.
"It's a woman, what's she doing here? That kind of wears you out. You're thinking, yeah, I'm here, live with it.
"It was the same at school when doing refreshers down in Yarmouth. The canteen would go quiet when I walked in."
"It was like living in a fish bowl for quite a time.
It just took some of the guys a little while to get used to a woman and a different point of view. There were only a few engineers out there at the time too."
Cohen survived and, judging by her recollections, life on Forties wasn't too bad; the bears gradually accepted her.
Did she become one of the boys?
"In a sort of a way," says Cohen. "That's one of the things that I try to tell women who come into our industry. You can be one of the boys without being one of the boys.
"In fact, one of the most negative things you can do as a woman in our industry is to try and be one of the boys. Because one of the strengths we bring is diversity . . . including difference in approach.
"It doesn't mean that I can't do an engineering job just because I like to wear pink and jewellery and make-up and stuff. I can still do my job. You certainly have to be very comfortable with yourself."
After cutting her teeth on Forties, Cohen's next assignment was Wytch Farm in Dorset as an operational petroleum engineer; a dream location and job at an exciting time.
"It was a really exciting time. Wytch Farm is a fantastic field because you have everything from nodding donkeys to ESPs (electric submersible pumps), to extended reach wells, a gathering station, terminal … everything that you might want to learn about in oil and gas, and in sunny Dorset with its beaches and the New Forest.
"It was a fantastic location to be sent, not only to learn but be given a high degree of independence … a lot of responsibility. Because the team at Wytch Farm was small, anybody who joined got a lot of hands-on. There was good mentoring too."
But three years into the role and with head-hunters prowling, she decided to go out into consultancy, specialising in reservoir engineering at that point and did a lot of mathematical modelling, including with the UK Atomic Energy Authority, before winding up at Conoco in Aberdeen for a couple of years, doing Southern Gas Basin stuff … reservoir engineering and modelling, new wells, new fields; working as a consultant.
Then Cohen got married and moved to Norway, at which time the decision was made to get on to an oil company payroll again.
"I really wanted to get back into having more influence in a company. Contractors don't. I decided on Phillips. I had a good background and went in as a petroleum engineer."
Within months Cohen was running a team on the Ekofisk where field revamp work was under way to counter the gradual sinking of infrastructure as hydrocarbons were drawn from the hydrocarbon-bearing chalks that characterise this still great North Sea fields complex.
Cohen: "Part of the discussion with the (Norwegian) authorities at that point was that there was a series of fields around Ekofisk that would no longer be tied into this new Ekofisk hub and so there was a requirement to do a re-evaluation of whether any of those fields could be redeveloped.
"My job was to look at all of those associated fields and either putting in the paperwork to the authorities that we were going to abandon or a proposal for redevelopment ion a different way.
"So I got heavily into project work, starting as a sub-surface team lead. I turned around one day and found that I had 40 facilities and electrical engineers working for me."
This was one of those points in Cohen's life where she reached out for help to plug a knowledge gap, in this case how to handle people.
"Long story short, the decision was made to put me through a Masters in Project Management and Economics. That enabled me to take on projects and project management for the next five or six years in the North Sea. I did all sorts, from redevelopment to pipelines and so-on."
So how much did the MBA strengthen Cohen as a budding leader?
Apparently hugely, especially on the people side. The ins and outs of oil and gas projects are one thing; people are quite another.
Have spent time in Norway, Cohen was to yo-yo across the North Sea for what by then had become ConocoPhillips, performing a variety of projects and operations roles and enjoying command and control. This included setting part of the Ekofisk redevelopment back on track, more or less.
"I was asked to come in and rejig the team and get it integrated. That was quite a challenge. It was the first time that we had an asset integration manager. Let's just say, that was quite a difficult project for the projects group."
So was Cohen put in as a fixer?
"Yes," she replies. "That's what I did to a great extent. That's why I went down to the Southern Gas Basin for Phillips as well. When there was something that didn't quite work I fixed it."
She agrees that fixers tend to be feared. "Projects were a command and control environment. I was good at command and control.
"The idea at the time was that I was an iron fist in a velvet glove. That was the description. Anyway, we made it work."
Then the talent spotters at HQ hooked her into Houston to run technology development, followed by a spell in the Lower 48 at the dawn of shale gas and oil exploitation.
Was this more basic than the North Sea?
"Very much so, but a lot of fun. Very tangible . . . hand's on," comes the response.
"That was an exciting time. We had quite a diverse portfolio. We did a lot around heavy oil technologies, also we were working on one of the first trials with Arctic hydrates. During that period we also had significant involvement in the development of nanotechnologies.
"While I was there, because of the unconventionals, one got a bit more involved in the Lower 48 … the whole gas thing.
"They were coming to us and saying they wanted to unlock this opportunity. 'We're looking for this technology, that technology.'
"And then they would tell me the volumes that a well was going to produce. My reaction was, shut it in. 'No, we haven't even drilled it,' they'd say.
"What. You're drilling for that much volume? You've got to be joking! Because in the North Sea we wouldn't entertain it. It's a different culture … a totally different game, totally different economics; different everything.
"I said to my boss that I'd like to run the Lower 48 gas asset base. The only way you can really understand what drives that and how the economics work would be to run it.
"And so I ended up running the Gulf Coast area for ConocoPhillips. We had Louisiana, deepwater Magnolia, South and East Texas … the swamps … a really diverse portfolio. Rigs all over the place. You drive out to do rig visits … and in the desert too. Rigs in the middle of nowhere."
But then Cohen was asked to commit to three years in Kazakhstan, primarily to care for Conoco Phillips' interest in the Kashagan field development. That was 2008; several years before the various troubles and scandals that have beset this massive project became partial public knowledge.
This was a time when Cohen, known for her skill as a project fixer, discovered that women are generally better mediators than men; naturals at conciliation.
Suffice it to say that the consortium behind Kashagan were perceived as dysfunctional; with too much testosterone flowing during meetings and where even minutes were a nightmare. Cohen made it her mission to sort this out insofar as that was ever possible, given what happened to Kashagan after she returned to UK.
This appears to have been the posting were Cohen realised that family has to come first and a return to Europe was necessary. That came after two and a half years.
"I came back because my husband has a heart problem. We accepted the job in Kazakhstan with the knowledge that it wasn't ideal.
"John had been in London for a heart test and had a bad experience. If he hadn't actually been in the hospital when it happened, he wouldn't have survived.
"We said to ConocoPhillips that we needed to move out of Kazakhstan to anywhere where there was a good heart hospital within 20 minutes of where we were based.
"And so we came back to Aberdeen. In fairness to ConocoPhillips, they said that was fine but don't get comfortable.
"I suddenly thought. I'd moved house 17 times in my 20-odd years. This was our fourth time coming to Aberdeen and I really like the area. Even though the North Sea is challenged, it's really quite exciting as well.
"Centrica had pretty much started head-hunting me the day I arrived back from Kazakhstan. So, after quite a long courtship I agreed to move to Centrica about a year after I got back. I started on August 1 last year."
Since then, Cohen has accomplished a major reorganisation and refocus of the company's North Sea business, which is going through a significant growth spurt, thanks to developments such as Cygnus.
"What we've been trying to do is to identify the way we work as Centrica . . . who we are; what we stand for; what our core values are and our culture is; and how we execute that work.
"My belief is that your culture and how your people commit to a company is probably one of the most important things. And all the others like processes and systems are just enablers for them to deliver, based on their commitment."
This is an ongoing task, as is Cohen's journey in leadership.
"When you get to my level as an SVP, it cannot be command and control. Hundreds of people do not follow you because you tell them to. They follow you because they have a shared vision and they have a shared, aligned goal. You can't tell them to do it. It just doesn't work."
"I've had the opportunity to build a greater understanding and appreciation of leadership and leading leaders. It's taken years.
"But I couldn't do what I do without a brilliant husband. No two ways about it; you need someone at home who's incredibly supportive."
Indeed, Cohen's husband moved over to give her the freedom to develop as an oil company boss … a leader. By her own admission he has reminded her from time to time along the years that being tough is not always the best tactic.
He'd tell me: "You don't need to be tough. You need to be smart; you need to think your way through the problem, not push your way through it, Having somebody like that who you can bounce off is really helpful.
"I play golf, I walk dogs. I'm a great believer in a work-life balance, in finding connections with people and empathy that helps one become a better leader.
"Unlocking that bit is the hardest thing to do as well. Because that's when you show your vulnerabilities."
Questions and Answers
Age: 45
Education: BSc Chemistry (Hons) Queens University Belfast; MBA Project Management & Economics, Ceram University France
The 2/3 main roles in career and dates:
Offshore Production Engineer (1991), Head of Technology Development for E&P (2005), President of the Caspian Region (2009)
What has been the hardest decision you have made in business?
Making a decision on major redundancies in Lower 48, an area of onshore and offshore assets in the Gulf Coast, when I was running the development.
Who do you admire in business? Or who has inspired you most in your career?
I think that changes with time and circumstances. I am generally inspired by teams which pull together to deliver more than expected, like the Irish rugby team. The European Ryder Cup golf team which snatched victory from the jaws of defeat in the US in 2012 is another great example – that type of goal alignment and team spirit is awesome.
What do you regard as being your greatest success to date?
Tough question! There are many different types of success from personal success related to my progress so far in a very male dominated field of industry, to team successes related to challenging projects such as bringing new platforms in on time and on budget and safely delivering complex wells. All provide a sense of satisfaction and inspire me to keep improving.
What do you do to relax?
Play golf, walk my dogs
Where is your favourite holiday destination?
Portugal
What is your favourite gadget?
My iPad
What charity do you support?
The British Heart Foundation and Dogs Trust UK – they are both fantastic organisations
If you were not in the job you are in, what job would you like?
A vet
Where would you like to retire to?
Somewhere in the UK and Portugal
Recommended for you

'World first' offshore hydrogen platfrom inaugurated