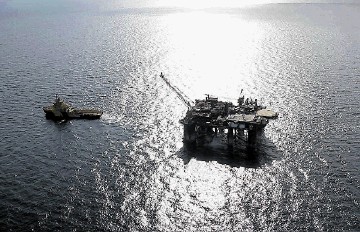 North Sea firm Ithaca Energy saw its shares jump as much as 14% yesterday after it said it had increased its oil hedging to mitigate against lower prices.
But the company also revealed the sharp drop in crude prices late last year wiped £117million off its 2014 balance sheet, leaving it with pre-tax losses of £225million.
Ithaca, whose stock plummeted more than 27% in February after it announced start-up from its Greater Stella Area (GSA) project would be severely delayed, said yesterday it had 4,000 barrels of oil per day hedged at an average price of $69 from July 2016 to June 2017.
The London and Toronto-listed company also reported "solid" underlying cashflow generation and a 22% increase in proved and probable reserves to 70million barrels of oil equivalent (boe).
Production of 10,947 boe per day in 2014 rose to daily output of more than 12,500boe in the first quarter of 2015, above full-year guidance of 12,000boe, it said.
Despite the GSA delay, Ithaca said substantial progress was made on the development in 2014 and production start-up is now on track for the second quarter of 2016.
It added: "The overall subsea installation programme is more than 80% complete. Technip is scheduled to recommence installation operations in April 2015 and over a number of planned offshore campaigns is set to close out the remaining installation activities in the third quarter of this year."
The delay to the original GSA schedule has been caused by modifications to a floating production platform – FPF-1 – in Gdansk, Poland, taking longer than expected.
It was previously hoped the work, being carried out by energy service giant Petrofac, would be completed in time for the £27million semi-submersible facility to sail away from Gdansk this spring.
Yesterday, Ithaca said Stella development drilling was "close to completion", with encouraging data obtained from the final Ekofisk well ahead of a clean-up flow test this month.
Chief executive Les Thomas added: "We are clearly focused on delivering the transformational Stella development, with first production expected in Q2-2016.
"The revised schedule reflects the significant progress made to date and is based on a plan for delivery of the FPF-1 vessel that all partners and contractors are committed to achieving and one which is underpinned by an incentive arrangement agreed between Petrofac and the Remontowa shipyard."
Ithaca also said it had cut operating costs to under $40 per barrel by the first quarter of this year and there was "scope for further reductions".
A UK tax allowance pool worth £1billion at the end of 2014 means the company is "sheltered", at current oil prices, from corporation tax until after 2010.
The Aberdeen and Calgary-based company said revenue fell to £256million last year, from £280million in 2013.
Recommended for you

Just 40m barrels added to North Sea reserves last year as FDPs slow