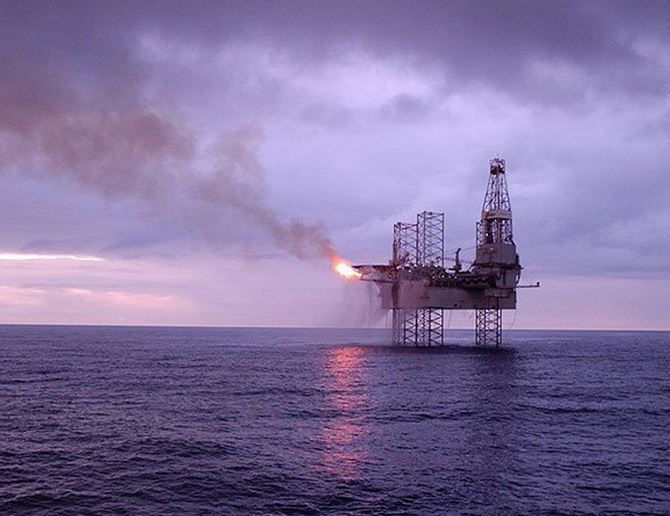 A number of oil and gas companies with North Sea operations today revealed the impact of low crude prices on their trading in recent months.
Shell chief executive Ben van Beurden said the firm is "enjoying" the benefits of recent efforts to get its North Sea business in shape, but declined to rule out additional job losses.
Speaking after Shell reported a 72% drop in second quarter net income to $1billion (£762million), he said Shell had done more to lower costs and enhance reliability in the North Sea than in any other mature basin.
The company notched up pre-tax profits of £730million compared with £4.2billion in the second quarter of 2015.
The firm's chief financial officer, Simon Henry, said Shell was on track to hit its target for asset sales of £22.8billion in 2016-18.
Mr Henry said transactions for 17 separate assets were "active", but declined to name any of them.
The company earlier said its portfolio of North Sea infrastructure was under review.
Mr van Beurden said yesterday: "We will take a view on our North Sea portfolio from a strategic perspective. Will that lead to more jobs being lost? At this time there are no new announcements."
He added: "We are enjoying the actions we have taken. The improvements we've made in the North Sea are a pathfinder for other aspects of our upstream portfolio."
Shell previously announced plans to shed about 12,500 roles globally this year due to a combination of low oil prices and its takeover of BG Group.
Meanwhile, sales at French firm Total sank by 17% in the second quarter of 2016 to £28billion, while adjusted net income dropped by just under a third.
But the company's upstream business increased production by more than 5% compared to the second quarter 2015, due to new project start-ups and ramp ups, notably Laggan-Tormore.
Two months ago Total delivered a boost to the sector when it officially opened its Shetland gas plant, which supports the Laggan-Tormore fields.
Total also chalked up £1.1million worth of asset sales in the first six months of the year. The company said the figure comprised mainly of the sales of the Frigg UK gas pipeline network in the
North Sea, and a retail network in Turkey.
And net losses at Houston-based ConocoPhillips widened to £838million in the second quarter of 2016 from £136million in the same three months last year.
ConocoPhillips chairman and chief executive Ryan Lance said: "The price environment remains challenging, but our business is running well and we continue to beat our production, capital expenditures and operating cost targets." T
Recommended for you
X

Baker Hughes reports $911mln loss