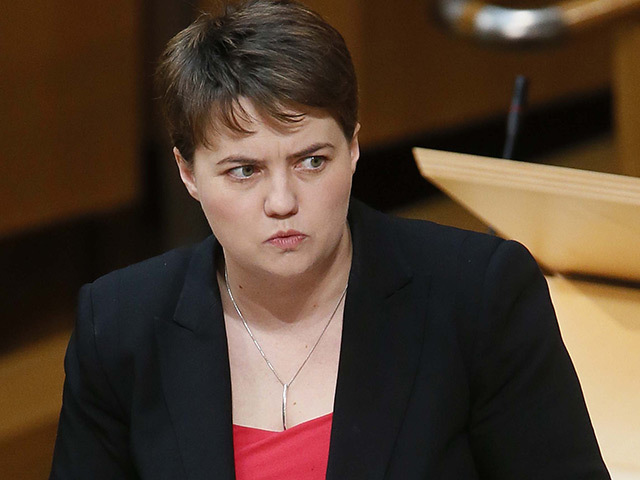 Scotland faces the prospect of reliance on English gas to "keep the pipes warm" because of SNP dithering on fracking, say the Scottish Conservatives.
Its leader Ruth Davidson said the kicking of the issue of shale gas "into the long grass" by Nicola Sturgeon risks thousands of jobs across the country.
The SNP has imposed a temporary ban on the energy extraction technique while it investigates the potential for harm.
Ms Davidson told the SNP leader at First Minister's Questions: "It is quite possible that shale gas in the rest of the UK will get the go-ahead soon if local communities back it.
"And if it does providers say that much of that gas will go to Grangemouth and will end up in the National Grid powering many Scottish homes.
"So we could end up with the ban on Scottish gas, but with Scottish homes reliant on English gas to keep the pipes warm.
"Is the First Minister entirely comfortable with that?"
Ms Sturgeon replied saying her Government is looking at all the evidence before making a final decision.
"Given the concerns that have been raised both domestically here in Scotland and in other parts of the UK and in many other countries we will continue to take that evidence-based approach," she told MSPs on Thursday.
"I will leave Ruth Davidson to explain to communities across the Central Belt in Scotland why her party would choose to ride roughshod over the concerns that have been raised."
She added Scotland was seeing record levels of renewable energy generation, which she accused of Ms Davidson of ignoring.
Fracking, which is also known as hydraulic fracturing, involves shooting a water, sand and chemical mixture into rocks beneath the ground to release oil and gas.
There are several sites in Fife – including in and around Kirkcaldy, Methil and Rosyth – with significant underground shale reserves.
While the SNP is under pressure from the Conservatives and industry to exploit Scotland's shale reserves, the rest of Scotland's major parties are calling for a permanent ban.
The Scottish Parliament voted to support an outright ban on fracking in June.
Recommended for you

Liz Truss risks Tory backlash over end to fracking ban