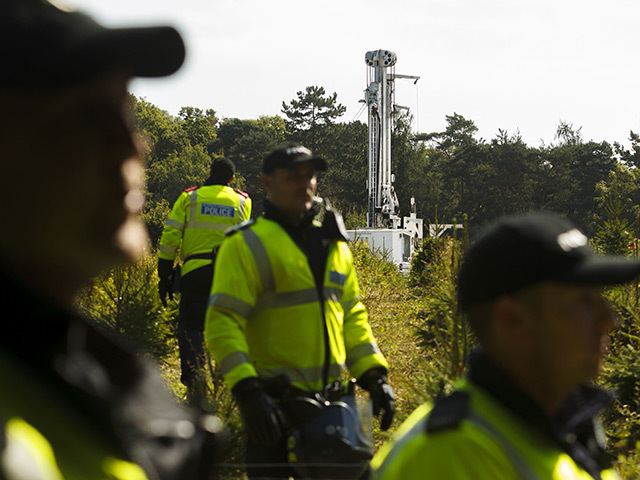 The Government's decision to allow shale gas exploration in Lancashire has been welcomed by business groups but prompted dismay among anti-fracking campaigners.
Green Party MP Caroline Lucas, who took part in protests against fracking in Balcombe, West Sussex, in 2013, said ministers had ignored local people who had objected to the plans.
"Today's decision shows the yawning gap between the Government's rhetoric and the reality of their policies – and it will send a shiver down the spine of the many people up and down the country fighting fracking.
"Ministers promise to support "ordinary people" but have ignored the people of Lancashire – including local and district councillors and the overwhelming majority of local people who objected to these reckless plans."
And she said: "Fracking is a dirty, expensive and dangerous gamble with our environment, security and economy. We should be choosing an energy system powered by the renewable sources that we have in abundance and keep fossil fuels in the ground."
But the British Chambers of Commerce said the decision sent an important and positive signal on the UK's future energy security.
Acting director general Adam Marshall said: "We need to explore the potential for shale gas to make a contribution to our energy mix, alongside both nuclear and renewables.
"Tapping domestic energy resources creates both energy security and jobs here at home, and seems a much better alternative to dependence on supplies from overseas."
Babs Murphy, chief executive of the North & Western Lancashire Chamber of Commerce said: "Developing a viable shale industry in Lancashire will have positive economic implications for the region in terms of investment, jobs and supply chain engagement, and has the potential to provide security of energy supply to regional manufacturers.
"This announcement means that local businesses will be in pole position for future shale gas supply chain opportunities in the county."
But there were warnings that despite the go-ahead, shale gas may not take off as an industry in the UK.
Prof Jim Watson, director of the UK Energy Research Centre (UKERC), said: "The economics of shale extraction in the UK are still highly uncertain, and it is not known whether shale production will deliver gas cheaper than that currently used by UK consumers.
"The costs of UK shale will not be clearer until a significant amount of exploratory drilling takes place.
"But even if shale gas development turns out to be economic, it is unlikely to have a noticeable impact on the energy bills of UK consumers," he said.
Ken Cronin, chief executive of industry body UK Onshore Oil and Gas (UKOOG) said: "The approval of the application at Preston New Road is an important step forward towards determining what gas resources we have under our feet, with the aim of developing a sustainable onshore natural gas exploration industry in the UK.
"We need the gas to heat our homes, produce electricity, supply our industries and to reduce our dependency on imports.
"The onshore oil and gas industry is committed to producing this gas in the safest and most environmentally sensitive way possible and to creating jobs and opportunities in the supply chain."
Recommended for you
X

Scottish drama strikes at heart of oil industry