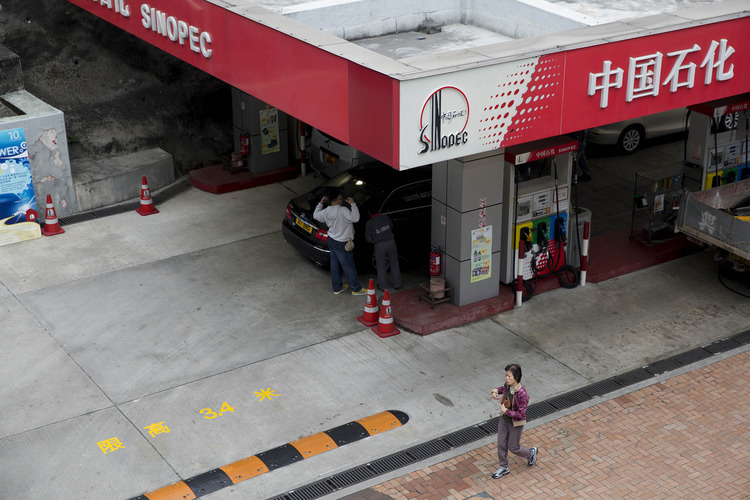 China Petroleum & Chemical Corp.'s third-quarter profit rose sixfold as refining gains helped overcome deepening losses from oil and gas production.
Net income at the world's biggest refiner, known as Sinopec, rose to 10.2 billion yuan ($1.5 billion), from 1.65 billion yuan a year ago, the Beijing-based company said in a statement to the Hong Kong stock exchange on Thursday. Revenue dropped 3.1 percent to 472 billion yuan.
Oil's two-year slide starting in 2014 has been a boon to fuel makers including Sinopec. Operating profits from refining, marketing and chemicals in the July to September period more than doubled to 24.1 billion yuan, according to Bloomberg calculations based on half-year and nine-month data from Sinopec. The company doesn't release third-quarter operational figures.
"Sinopec is a big beneficiary of low crude prices as it buys most of the oil it processes from overseas," said Tian Miao, a Beijing-based analyst at North Square Blue Oak Ltd. "The low comparison basis from a year ago also makes the quarterly numbers look good."
The company's Hong Kong-traded shares slipped 0.4 percent to HK$5.66 as of 9:35 a.m. Friday, compared with a 0.3 percent decline in the city's benchmark Hang Seng Index.
Operating losses in exploration and production deepened to 8.49 billion yuan from a loss of 1.62 billion yuan during the same period last year, according to Bloomberg calculations. Brent, the benchmark for half the world's crude, averaged about $47 a barrel in the third quarter, down 8 percent from a year ago.
After posting a 22 percent drop for half-year profits, the third-quarter performance pulled net income for the first nine months of the year up 11 percent to 30.1 billion yuan.
Sinopec's capital spending during the first nine months of the year totaled almost 25 billion yuan, a 34 percent decline. Expenditures in just the third quarter were down 21 percent from the previous year to 11.5 billion yuan, according to Bloomberg calculations.
Output Decline
The company's domestic crude output in the first nine months dropped 14 percent to 191.26 million barrels as the explorer shut some aging and high-cost oilfields, the company's statement showed. The nation's total production has fallen 6.1 percent during the same period, according to data from the National Bureau of Statistics.
"Sinopec's E&P unit is likely to extend losses in the fourth quarter and post the steepest production decline among the three Chinese oil majors in 2016 given its higher cost structure than its rivals," said Lu Wang, a Bloomberg Intelligence analyst in Hong Kong.
The company's total oil and gas production in the third quarter was down 12 percent from the same period last year to 103 million barrels of oil equivalent, while refinery runs were little changed at about 59 million tons, according to Bloomberg calculations.
Cnooc Ltd., China's biggest offshore oil and gas producer, reported Wednesday a 15 percent fall in third-quarter sales as output and capital spending declined. PetroChina Co., the country's largest producer and second-biggest refiner, is scheduled to release results Friday.
Recommended for you

Exploration is back on the menu in Africa, with big finds and strong prices