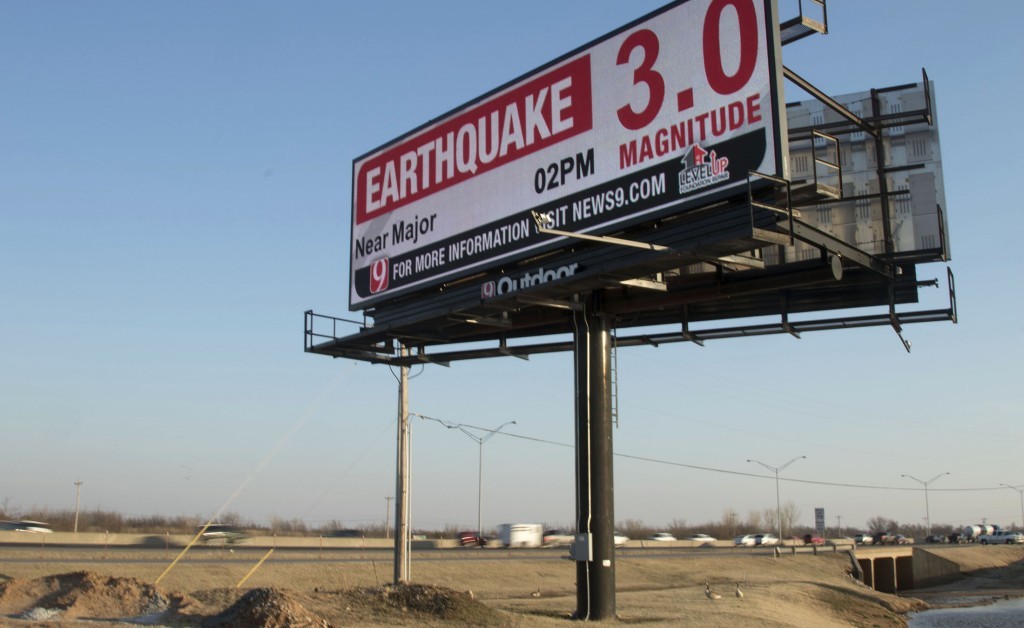 Oklahoma's oil and gas regulator plans to shut some disposal wells and reduce the volume of others as its initial response to Sunday's earthquake near the oil hub of Cushing.
"Other plans are being developed that will encompass larger areas" and more details are coming tomorrow, the Oklahoma Corporation Commission said Monday in an e-mailed advisory.
The commission said the plan covered 700 square miles. It didn't say how many wells were affected. When a quake of similar magnitude hit the state in September, the agency ordered 37 wells shut in a 500-square-mile area. The commission in 2015 established a "volume reduction area" covering 11,000 square miles, or about one-sixth of the state.
Cushing is the delivery point for West Texas Intermediate crude futures. WTI for December delivery rose 82 cents to settle at $44.89 a barrel on the New York Mercantile Exchange.
"It's definitely a long-term negative development if you are getting earthquakes of that magnitude at such an important site," Bob Yawger, director of the futures division at Mizuho Securities USA Inc. in New York, said by telephone. "It doesn't bode well for the future."
Pipelines Operating
The Oklahoma agency reported earlier that all pipelines under its jurisdiction were operating again after shutting down as a precaution because of the temblor, centered less than 2 miles west of Cushing.
Magellan Midstream Partners LP, a pipeline operator, resumed normal operations at Cushing late Sunday after a controlled shutdown of its assets after the quake, Bruce Heine, a spokesman, said in e-mailed statements. Enbridge Inc.'s facility in Cushing wasn't affected, Michael Barnes, a spokesman, said by e-mail.
Magellan typically suspends operations to check the integrity of assets if an earthquake over a certain strength occurs, Heine said. Kinder Morgan Inc., another pipe operator, hasn't had any issues affecting its Cushing operations, Richard Wheatley, a Houston-based spokesman for the company, said in an e-mailed statement.
Other Tremors
Several producers, as well as the U.S. Environmental Protection Agency, are facing lawsuits because of seismic activity allegedly linked to oilfield wastewater disposal in Oklahoma and other states. The OCC has been issuing restrictions for more than a year aimed at cutting down on the amount of wastewater injected into underground wells.
There are about 35,000 active wastewater disposal wells, though only a few dozen have been linked to quakes, according to a Bloomberg Intelligence report in May, citing the USGS. A 5.6-magnitude temblor struck Oklahoma in September, which tied a state record set in 2011. Following the earthquake at Cushing on Sunday, minor tremors occurred at Nicoma Park, east of Oklahoma City, and Fairview, in the western part of the state.
The region, previously not known for intense seismic activity, began having a significant number of earthquakes in 2009, the same year area oil companies began using fracking to shatter deep rock layers to extract oil and gas. Fracked wells produce large quantities of wastewater, which drilling companies inject into ultra-deep disposal wells.