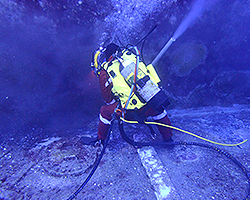 No divers reported injuries last year during operations on the Norwegian Continental Shelf, according to the country's safety body.
The Petroleum Safety Authority has released a report showing diving data from 1985 to 2016.
A summary of the PSA report states: "The analysis shows that there have been relatively few personal injuries associated with saturation diving in the last 25 years.
"And in 2016, there were no reports of incidents involving personal injuries."
The data shows that the activity level in 2016 for saturation diving, from a pressurised diving bell, was down 23% from 2015 levels.
A total of 44,569 man-hours in saturation was carried out last year.
The average annual activity level in the last 20 years for saturation diving is 63,000 man-hours.
The PSA said a normal level of activity in saturation diving on the Norwegian Continental Shelf is expected this year as activity picks up again.
For surface-oriented diving, 219 man-hours in the water were reported in 2016, and no undesirable incidents.
The PSA report added: "Although the number of hours in the water in 2016 was considerably higher than in the preceding year, the activity level for surface-oriented diving is generally low, as it has been for the last 20 years."
Recommended for you
X

These are all the ways a Saudi Aramco IPO could impact markets