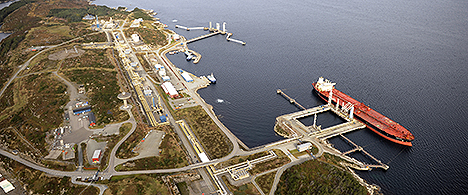 Norway's safety watchdog the PSA has carried out an investigation after five people were exposed to potentially deadly hydrogen sulphide (H2S) gas.
The incident happened at the Statoil's Sture terminalm near Bergen, in October last year while work was being carried out on a H2S reactor treatment plant for oily water.
The PSA's investigation of the incident identified several "serious violations" and has issued a compliance order to the operator.
The PSA report stated: "Two operators, an apprentice and two interns climbed to the top of the 14-metre-high H2S reactor to check its condition.
"Toxic H2S flowed out through a venting valve on the top, and the individuals who had climbed up were exposed to the gas to varying degrees.
"Four of them eventually managed to get down, while the fifth needed assistance.
"An emergency response was initiated, whose participants helped reduce the impact of the incident, at times at the risk of their own lives and health.
"Five persons were hospitalised, of whom four were discharged after a day and one after three days. No material damage or environmental harm was registered.
"H2S is a highly toxic gas. The dispersion analysis that was performed shows that the personnel were exposed to potentially fatal concentrations. Under slightly different conditions, one or more of the exposed persons could therefore have died."
The PSA identified several regulatory violations, including lack of management of activities, resources, processes and expertise. The investigation also shows that there have been deficiencies in the shift setup and shift changes, and deficiencies in the management and implementation of emergency response.
The deadline for complying with the order is June 1.
Statoil has been contacted for comment.