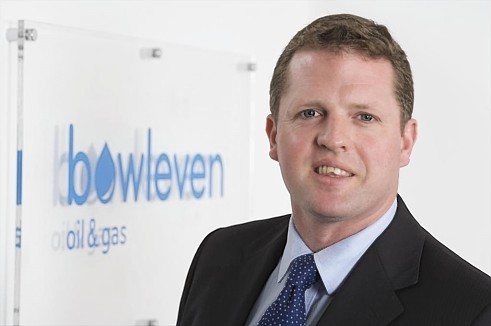 Bowleven's former boss confirmed yesterday that he was no longer involved with the turmoil-hit Scottish oil explorer following his ousting earlier this month.
Kevin Hart, who was removed as chief executive following a vote by shareholders on March 14, said he was technically still an employee of Bowleven.
But Mr Hart said he was not making decisions at the London-listed company anymore.
The former Ellon Academy pupil also said it was "far too early" to say what his next career move would be.
Mr Hart, previously finance director at Cairn Energy, had led Bowleven since 2006.
The Africa-focused company was thrown into disarray this month when activist investor Crown Ocean Capital (COC) succeeded in getting five directors removed, including Mr Hart.
But a few days after the vote, COC claimed Mr Hart was "still acting as chief executive" of Bowleven and accused chairman Billy Allan of having "no intention" of removing him.
COC, a Monaco-based private investment vehicle, then called for another vote in an attempt to get rid of Mr Allan, who survived the revolt.
Mr Hart confirmed yesterday that he was no longer "in situ" at Edinburgh-based Bowleven and expected his departure to be finalised at the end of this week.
He was speaking after Bowleven published its results for the six months to December 31, 2016, which revealed a return to black.
The group chalked up pre-tax profits of £2.7million during the period under review, bouncing back from a deficit of £105million a year earlier.
Capital expenditure cash flows were £2.3million, down from £25.8million.
In its interim results update, Bowleven acknowledged COC's calls for another vote on Mr Allan's position and said further information on a meeting would be provided to shareholders "in due course".
Bowleven also reiterated its plans for a strategic review "of all options available to the company".
Bowleven first revealed plans for the review a week after the boardroom cull.
Bowleven said options included the sale of the company itself and the divestment of one or more of its assets, which include onshore and offshore licences in Cameroon.
The announcement seemed to cause alarm at COC, which said the timing would not be opportune given that Bowleven was currently perceived to be "troubled".
It also said the Etinde asset, offshore Cameroon, was at an "unfavourable stage of the value cycle" and would "solicit highly opportunistic bids" at best.
But the board subsequently pointed out that COC's proposals for "transforming Bowleven into a holding company" would also be considered as one of the options.
Bowleven also said the decision to undertake the strategic review had been "unanimously approved", meaning that Christopher Ashworth and Eli Chahin had also backed the plan.
Mr Ashworth and Mr Chahin were recruited onto the board of Bowleven after being put forward by COC at the general meeting on March 14.