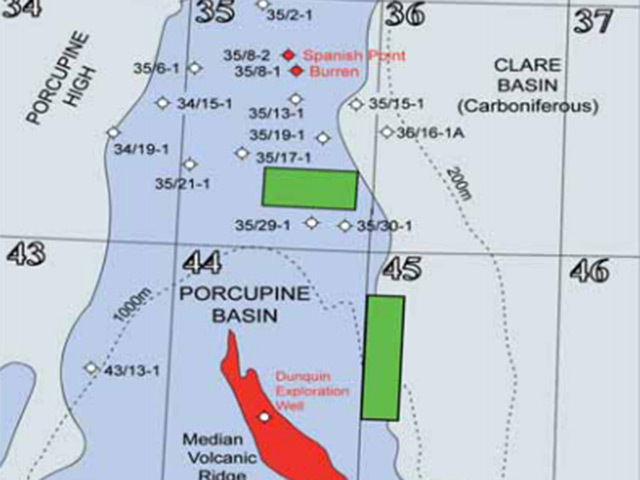 The Irish government has approved future plans for the extension of a frontier licence development in the Southern Porcupine basin.
The block off the south west coast of the country is operated by Eni Ireland B.V. (36.913%), on behalf of its partner Repsol Exploracion Irlanda, S.A. (33.557%), Providence Resources P.l.c. (26.846% interest*) and Sosina Exploration Limited (2.684%)
The area contains the 2013-drilled Dunquin North carbonate build-up, which hosts a residual oil column, together with the undrilled Dunquin South exploration prospect.
The Minister of State for the Department of Communications, Climate Action and Environment has now given his consent to the extension of the second phase of the licence to November 14, 2019 and to the subsequent third and fourth phases to November, 14, 2021 and 2025.
This is subject to the completion of the agreed work programme by the joint venture partners, which includes the acquisition and processing of a minimum 1,800 km2 of 3D seismic.
In April 2017, the partners agreed to underwrite and licence new multi-client 3D seismic data being acquired over the licence. This survey work has started.
Tony O'Reilly, chief executive of Providence said: "We are pleased to have received this confirmation from the government on the licence extension as we continue to move forward with the evaluation of this licence."