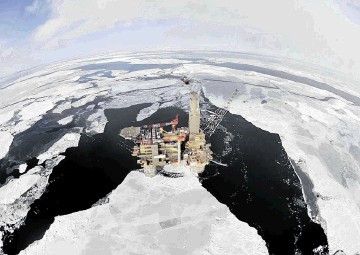 Major North Sea oil firms will have to cap their global spending by as much as 70% if international climate change targets are to be met, a financial think tank has warned.
London-based Carbon Tracker, a team of financial, energy and legal experts backed by a string of philanthropic organisations, said more than £1.8trillion-worth of oil and gas projects pencilled in for between now and 2025 could become redundant.
Carbon Tracker's "2 degrees of separation" report ranks companies in order of where shareholders' money is most exposed to a transition to a low-carbon global economy.
The think-tank says five of the world's six largest listed oil companies risk wasting more than 30% of possible spending on upstream projects which are high-cost and "surplus to supply needs" under the 2015 Paris Agreement target of limiting global warming to two degrees celsius.
Carbon Tracker says ExxonMobil – the world's top publicly-traded oil and gas company – would see up to half of its capital expenditure budget misspent
Anglo-Dutch major Shell, France's Total, Spain's Repsol, Canadian Natural Resources and US-based Chevron have up to 40% of their budgets on the climate change hit list.
US firm Apache risks wasting up to 70% of its budget on new projects that will not be needed, the report suggests.
Among other North Sea operators, BP, ConocoPhillips and CNOOC come in at less than 30%.
At the other end of the scale, 14 companies including Middle East giant Saudi Aramco and Brazil's Petrobras are "well aligned" with the climate change target, risking 10% or less of their spending, the report says.
Carbon Tracker research director James Leaton said: "There are clear signs that oil demand could peak in the early 2020s.
"Companies need to start taking project options that would come onstream … off the table and be transparent about how they are aligning with a low-carbon future.
"Sticking with the growth at all costs scenario just doesn't add up for shareholder value when the policy and technology momentum is heading in the opposite direction."
The study was produced with the help of the Principles for Responsible Investment (PRI), an international group focused on investment practices.
PRI research and policy director Nathan Fabian said: "This report is a real game-changer for the future of corporate-investor engagement.
"Investors in oil and gas companies have been in the dark about their exposure to climate risk, but they will now be able to confront companies with precise information and ask hard questions about how they intend to deal with potentially stranded assets."
US president Donald Trump said earlier this month he would withdraw America from the Paris accord.
Recommended for you

The Saudi prince of oil prices vows to drill 'every last molecule'