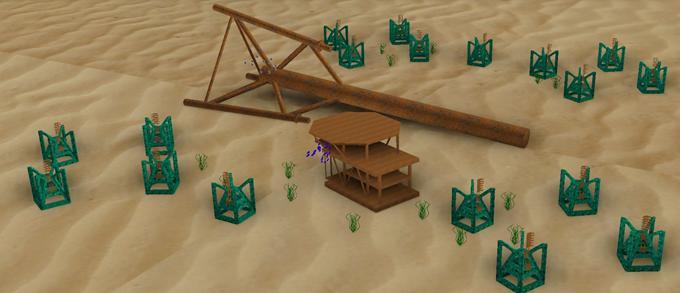 A new scheme hopes to help overcome the public stigma of rig-to-reef projects.
The controversial process involves turning legacy assets into underwater environments where marine life can thrive.
Essentially old platforms and subsea infrastructure are decommissioned and safely converted to an artificial reef.
However such projects often struggle to address the regulatory hurdles, public perception and the responsibility of who takes the enduring liability for the asset.
The new Integrated Rigs to ReefsTM (IR2RTM) solution resolves the many challenges owners face by augmenting and integrating the retiring assets into purpose built reefs.
Xodus Group's new collaboration with stabilisation and artificial reef specialist Subcon International will deliver IR2RTM decommissioning solutions globally.
This partnership combines Xodus' decommissioning capabilities with Subcon's extensive track record in the design and construction of purpose-built marine habitats.
Enrico Salardi, Xodus Group's director of decommissioning said: "IR2RTM is a decommissioning solution which provides many benefits to oil and gas operators, governments, local industries, communities and ultimately to the environment.
"The IR2RTM solution delivers material cost savings to operators whilst enabling them to turn a legacy asset into a positive legacy for the environment.
"Importantly, this industry-first offering provides a clear pathway for the transfer of ownership to state agencies."
While the rigs to reef solution has a proven track record for generating decommissioning cost savings and for creating effective habitat, the question of who has enduring liability for the structure remains open.
The IR2R model employs methods of relocation, augmentation and integration to completely reinvent the retired structures as productive, purpose built artificial reefs.
Ownership and liability for the new asset is then able to be transferred to appropriate government agencies.
Subcon International chief executive, Matthew Allen added: "Our collaboration with Xodus enables more operators to benefit from our innovative IR2RTM model.
"The creation of new, purpose built habitat through the integration and augmentation of retiring marine structures, means degraded habitats can be restored and new habitats established.
"It reduces costs for the operator, reduces waste onshore, and establishes a more vibrant and productive marine environment for future users. It is a true win-win for all stakeholders."
Recommended for you

From oil rigs to floating wind – work starts on Ardersier Port transformation