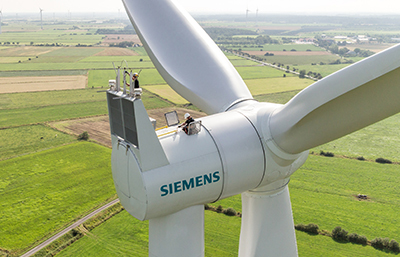 German conglomerate Siemens is to cut around 6,900 jobs mainly at its power and gas division due to the rising force of renewables.
It is understood most of the cuts will take place before the year 2020. Around half of the job cuts will take place in Germany.
The power and gas division has reportedly seen a drop off in the supply of large gas turbines for electricity generation – a once key market for the company.
However in recent years, more and more companies are looking to increase solar and wind capacity – leaving this once thriving business now failing.
"The power generation industry is experiencing disruption of unprecedented scope and speed. With their innovative strength and rapidly expanding generation
capacity, renewables are putting other forms of power generation under increasing pressure. Today's action follows a nearly three-year effort to right-size the business for this changing marketplace," said Lisa Davis, member of the managing board of Siemens AG.
She added: "Our plan is to execute these changes in a fast and prudent manner while also investing in future-oriented technologies. We're committed to growing this
business and to being a capable and reliable partner for our customers in order to help ensure their long-term success."
Janina Kugel, chief human resources officer and member of the board, added: "The cuts are necessary to ensure that our expertise in power-plant technology, generators and large electrical motors stays competitive over the long term. That's the goal behind the measures we're taking. However, we can reach this goal only if we find answers to the worldwide overcapacities and the resulting price pressure.
"We'll plan these measures carefully, diligently and for the long term."
According to the plans presented to the employee representatives, a total of around 6,900 jobs worldwide are to be cut in the affected divisions over a period of several years.
Global demand for large gas turbines – generating more than 100 megawatts – has fallen drastically and is expected to level out at around 110 turbines a year.
By contrast, the technical manufacturing capacity of all producers worldwide is estimated at around 400 turbines.
The power and gas division has already began responding to the changed market conditions three years ago.
Siemens say that under its "PG2020" program, it has made considerable progress in the action areas of customer proximity, innovation, costs and organizational efficiency.
Siemens also said it is committed to this business and will continue to make significant investments in the development of efficiency enhancing technologies.
However, the PG2020 measures implemented to date have to be further intensified since the scope and speed of the market changes have increased significantly, the firm said in a statement.
Outside Germany, the restructuring measures will eliminate a total of just over 1,100 jobs in European countries.
In countries outside Europe, another 2,500 jobs will be affected, including 1,800 jobs in the consolidation of production facilities and administrative functions in the US.
Recommended for you

£50m renovation of Tummel Bridge hydro electric plant to create 65 jobs