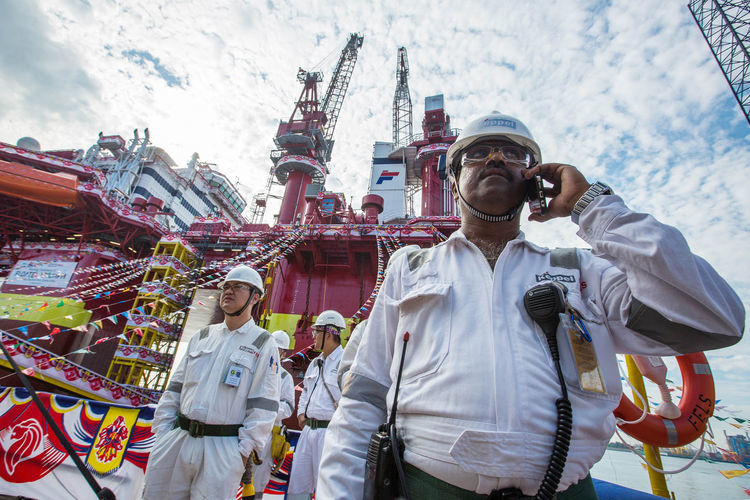 Keppel Offshore & Marine Ltd., the world's biggest builder of oil rigs, agreed to pay $422 million to end a U.S. bribery probe into illegal payments to officials at Petroleo Brasileiro SA, Brazil's state-owned oil company, and to the then-governing political party.
Keppel units paid about $55 million to win 13 contracts with Petrobras and another company, U.S. prosecutors said in a press release after an American subsidiary pleaded guilty in federal court in Brooklyn, New York. The payments were part of outsize commissions to an intermediary and disguised as consulting agreements, according to prosecutors.
"The defendants used the global financial system –- including the United States banking system –- to disguise the source and disbursement of the bribe payments by passing funds through a series of shell companies," Bridget Rohde, acting U.S. Attorney in Brooklyn, said in a statement.
Prosecutors said the scheme ran for more than a decade and violated the Foreign Corrupt Practices Act, a U.S. anti-bribery law.
Keppel Offshore & Marine USA pleaded guilty, while its parent, Singapore-based Keppel Offshore & Marine, entered into a deferred-prosecution agreement with the government. The probe was brought in collaboration with authorities in Singapore and Brazil. In court on Friday, a company representative acknowledged the scheme.
Keppel Offshore also accepted a conditional warning from the Corrupt Practices Investigation Bureau in Singapore and its Brazil unit reached a leniency agreement with the Prosecutor's Office in Brazil, its parent Keppel Corp. said in a statement Saturday. The $422 million in fines will be allocated between the U.S., Singapore and Brazil, it said.
"We regret and are deeply disappointed by the actions that we now know to have taken place at the group's offshore and marine business in Brazil from around 2001 to 2014," Keppel Corp. Chairman Lee Boon Yang said in an earlier statement. "Any perception that illegal payments can be condoned, if they are made by agents, is wrong and will not be tolerated."
Keppel Offshore stopped oil-rig construction for Sete Brasil Participacoes SA, whose only client is Petrobras, since the end of 2015. Sete Brasil, which has also been embroiled in the corruption probe in Brazil, accounted for a combined $10.5 billion in orders for semi-submersibles and drill ships at Keppel and Sembcorp Marine Ltd., the world's two largest builders of oil rigs.
Recommended for you

New Gunvor bribery 'skeleton' haunts oil tader's pledge to reform