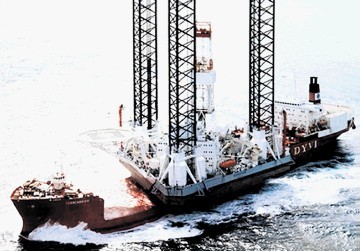 AN OIL drilling rig has capsized in the Sea of Okhotsk off Russia's east coast, leaving four people dead and 49 missing.
The emergencies ministry said in a statement there were 67 people on board as it was being towed about 120 miles off the coast of Sakhalin Island in stormy conditions.
It said 14 people had been rescued.
Russian news agencies later cited ministry officials as saying the bodies of four people had been found.
The search operation has been hampered by a storm.
The transport ministry said the rig started sinking after a strong wave broke some of its equipment and portholes in the crew's dining room.
An investigative committee opened a probe into the accident and said it might have happened because of a breach of safety regulations or due to the weather.
There were no reports of environmental damage and it would be unlikely since the rig was not drilling for oil when it capsized.
The rig was once owned by US company Noble Drilling, which has an office in Farburn Industrial Estate, Dyce, Aberdeen.