Scottish oil service companies were celebrating another successful international show yesterday as Offshore Northern Seas (ONS) in Norway drew to a close.
There were nearly 140 UK exhibitors at ONS 2008 – a sizeable proportion of them Scottish – and they are confident that new contacts made and old ones renewed will lead to lucrative business opportunities around the globe in the months and years ahead.
There was a record attendance of about 38,000 people from throughout the world for the biennial gathering in Stavanger, which attracted nearly 1,200 exhibitors from 27 nations.
Kjell Ursin-Smith, chief executive of the ONS Foundation, said he was very happy with the turnout and how the event went.
This was the first year Aberdeen-based Brinker had its own stand at ONS, where it launched a new sealing solution – Plasma.
Business development manager Klaire Evans said: "We have previously exhibited alongside other organisations but, in light of our continued growth and success, we were keen to really make an impact and establish our own presence at this year's show. The interest has been phenomenal."
Industrial technology specialist Tracerco, which has offices in Aberdeen and around the world, is a regular exhibitor at the Stavanger event. Managing director Andy Hurst said: "It's been an excellent show, which grows in stature and numbers each year."
Sensornet, which delivers advanced monitoring solutions to the oil and gas industry, used ONS to announce a master service agreement with Aker Well Services. The deal is potentially worth £2million.
Neil Meldrum, Sensornet's vice-president for Europe, the former Soviet Union and Africa, said: "This is a great show and an ideal opportunity to meet existing and new customers."
Neil Poxon, managing director of ITF, the Industry Technology Facilitator, said: "ONS has been a tremendous success for us this year. As an Aberdeen-based organisation, it's great to have a presence at such a high-profile international show."
Well flow management specialist Expro's corporate communications manager, Kay Drummond, said: "The show has provided us with a great opportunity to meet our customers, share with them our technology developments and expand our business network."
Aberdeen City Council leader Kate Dean said: "It's great to see so many local companies obviously doing well, while there has also been plenty of interest in the Aberdeen city and shire area – both for business and leisure pursuits."
Graeme Ross, Eastern Airways' Scotland director, said: "ONS has delivered a great festival of excellence in the energy industry, combined with Norwegian hospitality and a real celebration of different countries and cultures."
Recommended for you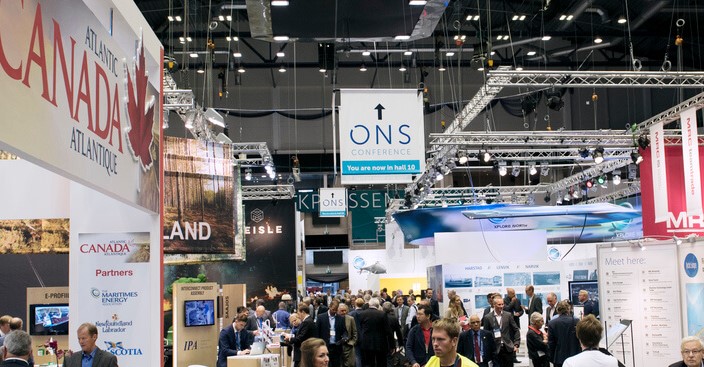 The ONS conference 'provides a platform for our evolving industry to learn'