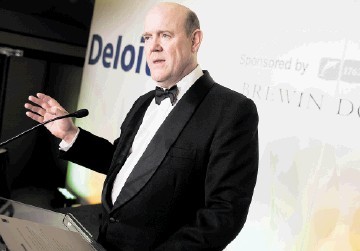 THE next generation of oil and gas business leaders were told last night there was no secret to a successful career in the energy sector; only ambition and commonsense.
Rupert Soames, chief executive of FTSE 100 company Aggreko, said a good career was about "finding out what you enjoy and doing it to the best of your ability with people you like and respect".
He was delivering the keynote address at the 2011 Young Professionals in Oil and Gas black-tie dinner in the Marcliffe Hotel and Spa, in Aberdeen.
Mr Soames, who heads up a Glasgow-based company delivering temporary power to governments and private customers worldwide, said: "The energy industry is a far more interesting sector for the ambitious for a number of reasons.
"First, demand is growing and will continue to do so for the foreseeable future.
"Second, you can ply your trade anywhere in the world from the frozen poles to the tropics. People need to find, process, distribute and sell energy.
"Finally, energy is a sector in which there are opportunities to work for every conceivable form and size of organisation.
"You have endless choice as to the sort of business you want to work for, or indeed start up yourself."
The event, organised by professional service firms Deloitte and McGrigors, and sponsored by Brewin Dolphin, followed a series of seminars for young oil and gas professionals throughout the year.
Mr Soames followed in the footsteps of the likes of First Minister Alex Salmond, entrepreneur Sir Ian Wood and Malcolm Webb, chief executive of industry body Oil and Gas UK, who have all taken on the speaker's role in recent years.
Proceeds from the night, which also featured Irish comedy duo Abandoman, will be donated to the Monty's Maggie's Appeal to bring a Maggie's Cancer Caring Centre to Aberdeen.