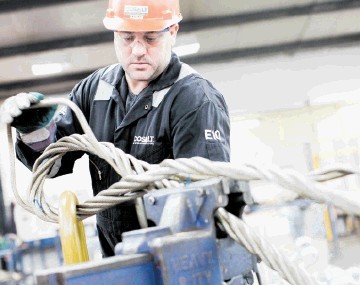 THE chairman of Cosalt has doubled his takeover offer for the firm after gaining control of nearly half the company's shares.
David Ross yesterday upped his bid for the engineering business to 0.2p a share and revealed he had bought a further 10% of the firm, taking the shares under his control to 45.7%.
If Mr Ross, co-founder of the Carphone Warehouse, commands more than 50% of Cosalt his offer will go through and he will delist the company.
The 0.2p-a-share offer vales the company, which employs about 250 at its Aberdeen-based offshore division, at just over £800,000.
Mr Ross said he believed he was now within a whisker of completing the deal for Cosalt.
He added: "After acquiring the latest shares, increasing the offer was the right thing to do so that is what we have done.
"From a starting point of nearly 46%, I am pretty confident that we can cross the finish line. It has put us in a position where it is almost secured."
Shareholders had been given until Thursday, December 22, to consider Mr Ross's offer, but the businessman said the revised offer meant the deadline would now be extended into next year.
Earlier this week, Mr Ross warned Cosalt shareholders that without his financial support the company was unlikely to stay in business because its banks were unwilling to provide further funding.
He described yesterday's news as a boost for Cosalt's employees, customers and suppliers.
"This is a big positive for them, but we now want to get this deal concluded so we can all move on," he said.
Mr Ross had already provided Cosalt with £17.6million of funds, loans and guarantees in the past five years, but earlier this month he provided a further £5million of credit to keep the company afloat while shareholders mulled over his offer.
At the time, Cosalt said it would re-enter discussions with Mr Ross to extend the loan beyond Thursday's deadline if the offer was not declared unconditional by then.
His move to take the UK-listed firm private came after Cosalt revealed net debts of £14million and a £9million pension-fund deficit.