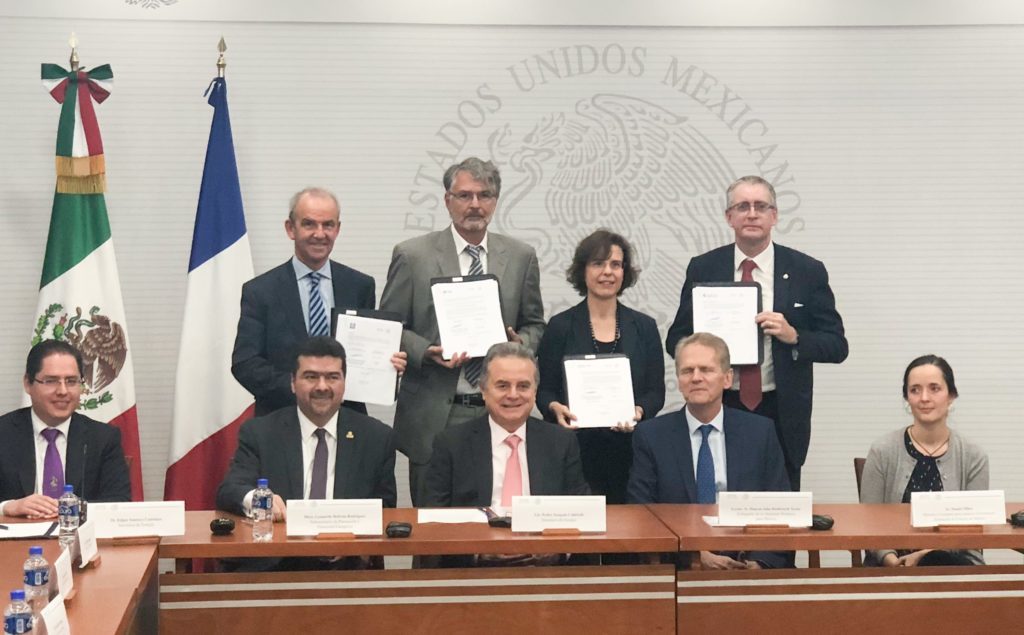 Aberdeen's energy institutions will collaborate with selected Mexican universities in an effort to "learn lessons from the North Sea".
The deal is part of the Mexican Government's plan build on the country's growth in oil and gas and close its skills gap.
Robert Gordon University (RGU) will partner the Instituto Mexicano del Petróleo (IMP), Instituto Politécnico Nacional (IPN), and Instituto Tecnológico y de Estudios Superiores de Monterrey, to run a number of drilling, oil and energy masters degrees.
The university will also help develop a Mexico:UK Smart Data for energy Research Centre.
Aberdeen University's part in the collaboration will see it deliver a mixture of research and teaching across engineering and law.
Professor John Harper, principal and vice chancellor of RGU, said: "I am truly delighted that RGU has been chosen by SENER as one of only four European partner institutions to help transform training and research in Mexico's hydrocarbon sector.
"RGU has built an established relationship with Mexico over the last three years after signing the Memorandum of Understanding with SENER, and has since worked with both governments to understand and recommend the skills and capabilities required to develop an international oil and gas industry.
"We are honoured to be able to continue to draw on our internationally recognised expertise in Mexico by working closely with our partner institutions to support the development of the country's hydrocarbon sector."
As two of four European universities selected, RGU and Aberdeen University will join Imperial College London and the IFP School in France as the selected universities.
Professor George Boyne, Aberdeen University principal, added: "This Memorandum of Understanding with SENER is testament to the University's status as a world leader in energy research and teaching across multiple disciplines, from subsea engineering to energy law.
"Our well-established links with Mexico stretch back several years, and our close relationship with CONACYT, the Mexican Council for Science & Technology, has seen hundreds of Mexican students come to Aberdeen to benefit from our renowned energy programmes.
"We are once again delighted to harness our expertise to help support the development of Mexico's energy sector, and I welcome this MoU as another important step in this ongoing and mutually beneficial relationship."
Recommended for you

Aberdeen University to research colocation of CCS and offshore wind