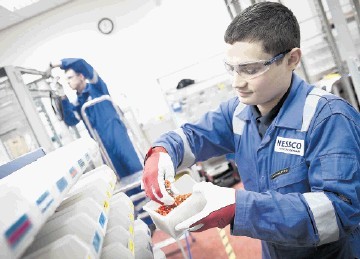 North-east oil and gas telecommunications company Nessco Group is expecting to double its turnover this year to £34million and add at least 20 people to its fast-growing workforce by the end of 2012.
Energy Minister Fergus Ewing visited the Westhill-based company yesterday as it announced it had already created more than 40 jobs this year to take staff numbers to 130.
The company, which specialises in telecoms systems integration and services, said it had secured a number of key contracts in the past three months in the North Sea, Iraq, west Africa, Brazil and Middle East worth more than £23million.
The work includes systems for both floating production vessels and downstream plants.
In UK waters, Nessco has been awarded new projects in the Golden Eagle, Clipper and Forties fields.
Managing director Ian McPherson said: "Our strategy of continuing to invest during the challenging times has paid off this year with turnover doubling, significant new export contracts and the recruitment of skilled engineers and technicians.
"The business has been built on a reputation for robust quality, giving clients reassurance that their vital offshore systems are protected around the clock and subsequently our growth is testament to that success."
Mr Ewing said: "Aberdeen has a strong worldwide reputation for technological innovation and many techniques practised throughout the world today were learned from operations in the North Sea.
"Scotland's oil and gas sector leads the world, and companies I visited today demonstrated the reasons why; the skills, the innovation and the expertise of the people I met were first class.
"Oil and gas is of vital importance to the Scottish economy and it's an industry with a long future."
Tom Smith is a founder of Nessco, which was established in 1979. He became executive chairman when Mr McPherson was appointed managing director in January 2009.
Nessco has grown into a global company with operations in Brazil and Azerbaijan and plans for further expansion.