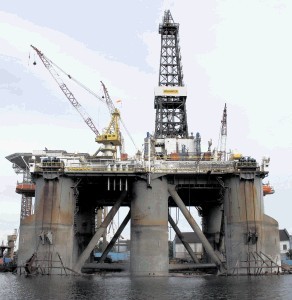 EXPLORATION and appraisal activity levels on the UK Continental Shelf (UKCS) remains at nine mobile rigs operating.
So far this year, the number of well starts is 27, of which 18 are well spuds and nine sidetracks.
The level of exploration spuds (eight) and appraisal spuds (10) remains broadly similar, although just one exploration sidetrack is noted compared with eight appraisal sidetracks.
A tally of 20 production and development wells are active, over 50% utilising mobile drilling units, so contributing to a year-to-date tally of 92 wells (52 wells spuds and 40 sidetracks), which is marginally up on the same point in 2010.
About one third of the development/production spuds this year are for new projects; the remainder are mainly infill wells and 2011 development drilling numbers are expected to outstrip 2010.
West of Shetland is the most active UK sector with four mobiles working. Hess's Cambo appraisal well 204/10a-4, using the Chevron-contracted Stena Carron drillship, was abandoned on August 22, and sidetrack 204/10a-4Z, immediately initiated.
Operations continue in the shallower waters over the Clair Ridge, with BP's South-west Clair field appraisal 206/12a-3 being drilled using the semi-submersible Byford Dolphin.
Some 40km to the north-east and on trend, Faroe Petroleum is wrapping up its first operated UKCS well with an (untested) oil discovery made with well 206/5a-3 on the Fulla prospect.
Also, Total completed its drill-stem test of the re-entered Edradour discovery, well 206/4-2, in mid August, ahead of end-month suspension, after which the Sedco 714 semisubmersible will return to Total's block 3/14a for further exploratory drilling.
Just one rig, Awilco's WilHunter, is operating in exploration and appraisal mode in the Northern North Sea, where Nautical has commenced a planned horizontal sidetrack, well 9/2b-5Z, to establish commercial flow rates at Kraken. The pilot hole, well 9/2b-5, successfully found the targeted and oil-bearing Palaeocene sands.
In the Central North Sea, the last of the 2010-initiated drilling programmes continues with BG's Jackdaw appraisal, well 30/2a-8, using the Gorilla VI. The jack-up has now been on station at the high pressure-high temperature accumulation for over a year.
Just 14 miles (22km) to the west, GDF SUEZ spudded, at the end of July, well 30/1a-11 on the HP/HT Faraday prospect using the Galaxy II jack-up.
The other long-running programme, also in the HP/HT province, on Maersk's Culzean accumulation, has temporarily finished with abandonment of well 22/25a-10Y, after 141 days on the second sidetrack.
The jack-up Ensco 101 will now spud the second in this two-well appraisal programme on Culzean, which will extend into 2012.
Nexen is drilling appraisal well 20/4a-10 on Polecat South (Upper Jurassic) with the semisubmersible Transocean Prospect, which spudded towards the end of July. Polecat was discovered by Nexen in 2005.
Two rigs remain active in the Southern North Sea where Tullow's well 49/30b-10 on the Foxtrot Prospect is shortly to suspend having encountered only water-wet Bunter sands, although a deeper Rotliegendes objective may be accessed from a common surface location.
The short duration programme utilised the Ensco 80 jack-up, following suspension of Tullow's well 44/19b-7A on the Cameron prospect as a potential future Carboniferous producer.
The discovery lies just 5.3km to the south of the near-term development – and recently renamed as Katy – Harrison discovery where operator ConocoPhillips is expected shortly to submit a field development plan.
Operations at E.ON's Well 42/28d-12 on the Tolmount prospect continue, with the jack-up Ensco 92 now approaching two months on location, which might suggest that re-siting the well location has overcome the drilling problems associated with a Jurassic interval, encountered on the previous attempt to successfully evaluate the Rotliegendes prospect, and satisfy the drilling commitment.
With a number of drilling approvals in the pipeline, activity levels are picking up as 2011 wears on. Without a remarkable turnaround, however, this year will go down on record as poor in terms of exploration and appraisal well numbers, with only about 30 by year-end.
The reasonably buoyant development and production drilling scene should help ensure that utilisation of mobile units is bolstered.
Indeed, 2011 could turn out to be better than 2010.
Simon Robertshaw's column is courtesy of North Sea drilling analyst Hannon Westwood
Recommended for you

UK Well Slot – Bacchus South exploration well disappoints for Apache