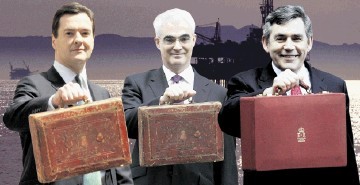 The UK Government was accused last night of mishandling the oil and gas industry for more than a decade after new figures revealed a record slump in offshore production.
The Department of Energy and Climate Change said the amount of oil being produced had fallen by 22.7% in the third quarter of 2011 compared with the same period last year.
It is the biggest decline since the department began compiling the data in 1996.
Gas production also dropped by 29.4%. However, industry body Oil and Gas UK insisted the sector would bounce back in 2012.
Its economics director, Mike Tholen, launched a stinging attack last night on the last three chancellors – George Osborne, Alistair Darling and Gordon Brown – for leading the industry into decline.
Mr Osborne stunned offshore energy companies in March by launching a £10billion raid on the sector to fund a 1p cut in fuel duty in his Budget.
As a result, much of the blame is being laid at Mr Osborne's door.
Mr Tholen said: "Production through to September 2011 has fallen dramatically, by much more than had been anticipated by either industry or government immediately prior to the March Budget.
"The drop can be attributed to a combination of factors, including extended shutdowns for maintenance and lower gas demand.
"However, looking further back, fiscal instability since 2002 resulted in fewer new fields coming on-stream over the last few years and it appears that this may have been compounded by a direct commercial impact on production following the tax increase in March.
"These production figures demonstrate the importance of sustaining investment throughout the price cycle, which is made much more difficult in a fiscal environment without long-term certainty."
He added: "For the sake of the UK's economy and its energy security, the UK Continental Shelf must, and can, recover from this production fall.
"In this, the ongoing work of Oil and Gas UK's members and the government to improve the business environment for investing companies and deliver long-term certainty is hugely important."
Yesterday, the government dismissed the claims that its March tax raid – raising the supplementary charge on production from 20% to 32% without consultation – was to blame.
"Production levels during 2011 have been lower than previously anticipated due to shutdowns in this summer's maintenance programmes coinciding," a spokesman said.
"There is no reason to believe that the production decreases are a result of concerns over tax.
"In general, North Sea production is continuing to decline year-on-year. However, we do not believe the recent downturn is the start of an additional downward trend and we would anticipate overall production levels beginning to improve in the spring."
In August, Shell had to shut its Gannet Alpha platform after oil started leaking from a flowline 113 miles east of Aberdeen.
More than 200 tonnes of crude spilled from the pipeline, which was about 300ft below the surface.
The Health and Safety Executive shut down Talisman's Claymore platform in August amid fears that not enough action was being taken to prevent an explosion.
The Scottish Government believes the industry's fiscal frustration further strengthens its case to seize control of its "own resources".
Energy Minister Fergus Ewing said: "The comments by Oil and Gas UK illustrate the extent to which successive UK governments have undermined Scotland's oil and gas industry and damaged investment and confidence. The good news for Scotland is that 40% of reserves remain in the North Sea, with more than half of the value still to be extracted – representing an asset base of £1trillion.
"North Sea revenues are set to generate £54billion in the six years up to 2016-17 – as much wealth as in the previous six years – making the case for Scotland to have access to our own resources with independence and financial responsibility."
Recommended for you

UK supply chain poised for lion's share of carbon capture benefits