TWO solicitors from law firm Stronachs have been put through the offshore survival course at Falck Nutec's Aberdeen facility.
Bobby McDonald and Robert McDiarmid took the plunge to enhance the services offered by the Granite City firm by being able to offer legal advice on offshore platforms where necessary.
Mr McDonald said that clients working offshore regularly sought advice regarding a variety of health and safety issues.
"In the event of an offshore HSE incident, the ability to be on site offshore and give informed first-hand advice will be an added benefit to our offshore duty holding clients," he added.
"We feel that nowadays our clients have a heightened awareness of these issues and would like to be able to consider their legal advisers as part of their 'rapid response team', equipped to deal with any kind of incident.
"We can now attend to take statements and be present to lend reassurance and guidance when the authorities are investigating any offshore incident."
Colleague Mr McDiarmid said the survival training was an opportunity to gain "greater insight" into an aspect of the offshore industry that he would not necessarily have expected to have had access to.
Recommended for you
X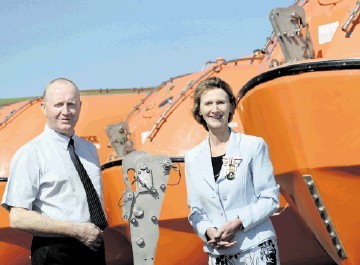 Findon firm gets top innovation accolade