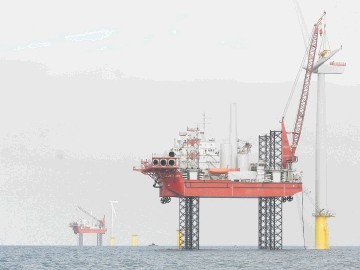 FIRMS from East Anglia are eyeing the European offshore wind market after cutting their teeth in the UK.
Having worked on offshore wind farms including Greater Gabbard off Suffolk and currently Walney off Cumbria in the Irish Sea, jack-up operator Seajacks has won its first overseas renewables contract in the fast growing German offshore wind market.
Working for WindMW, the Great Yarmouth-based firm's vessels Kraken and Leviathan will be used from next year to install 80 foundations and turbines for the Meerwind project in a contract worth more than £100million.
It will be ready to take on more work when its third vessel, Zaratan, being built in Dubai, comes on the market next year.
Three-year-old Great Yarmouth-based 3Sun, which bought Oban's Dawson Energy, is also eyeing German work having quickly gained a strong reputation, working for the likes of Siemens and Scottish and Southern Energy in wind and BP and CNR in oil and gas.
It is now also setting up a base in Norway for work and has opened an office in Westhill, Aberdeenshire as it continues to work in oil and gas.
Both firms and others have benefited from early work in offshore wind on their doorstep, from the Scroby Sands wind farm, one of the first to operate in 2004, to Greater Gabbard – still in construction.
Great Yarmouth-based CLS Offshore was one of the limited number of UK contractors working on the Thanet Offshore wind project – installing the turbines on the structures offshore.
Notably, all three firms were founded by people with backgrounds in oil and gas. But they are not just picking up work – they are helping shape the industry. Industry figures from the region formed an offshore wind supply chain round table to address needs of the industry.
Chaired by former BP-boss Lord Browne, in his role as president of the Royal Academy of Engineering, he said the economic benefit to be had from offshore wind was in the supply chain – but only if it could be sufficiently mobilised.
Firms are also innovating. Scour Prevention Systems is a new firm which has developed a system to stop erosion around the foundations of turbines on the seabed.
With work opening up offshore Germany as well as more locally, the opportunities appear wide open for the region.
Recommended for you

Asia's offshore mega wind farms risk delays from ship shortage