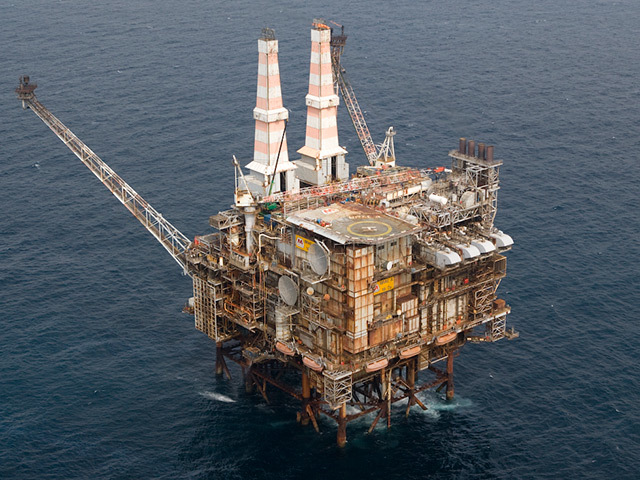 Houston-based Marathon Oil was back in the black last year despite a decline in non-US production.
Pre-tax profits from operations totalled £1.1 billion in 2018, against a deficit of £353 million a year earlier.
Revenues at the firm, whose UK operations are based in Aberdeen, climbed 38% to £5.1bn.
Marathon's current UK interests include the Brae Complex, and non-operated stakes in the Sage pipeline and the BP-operated Foinaven field, west of Shetland.
The company submitted decommissioning plans for Brae, 170 miles north-east of Aberdeen, in 2017.
In October, Reuters reported that Marathon was trying to sell its North Sea portfolio.
US production soared 27% to 298,000 boe per day last year.
Net international production averaged 114,000 barrels of oil equivalent (boe) per day in 2018, down 7.3% from 123,000 boe per day the previous year.
Marathon partly blamed "unscheduled downtime" at Foinaven during the fourth quarter for the decrease in non-US output.
Net sales of crude oil and condensate averaged 11,000 barrels per day in the UK in 2018, up from 10,000 in 2017.
UK natural gas sales volumes dropped to 14m cubic ft per day from 22m.
Marathon chief executive Lee Tillman said: "While many in our industry talked about capital discipline, we delivered.
"In 2018, we budgeted conservatively and never wavered, getting more for every dollar of capital we invested."
The company expects group oil production to rise by 10% in 2019.
More than 95% of Marathon's £1.87bn development capital budget for this year will be spent in the US, including the Eagle Ford, Bakken, Oklahoma and Northern Delaware areas.
Recommended for you
X

Robot scratches tip of Fukushima's melted fuel conundrum