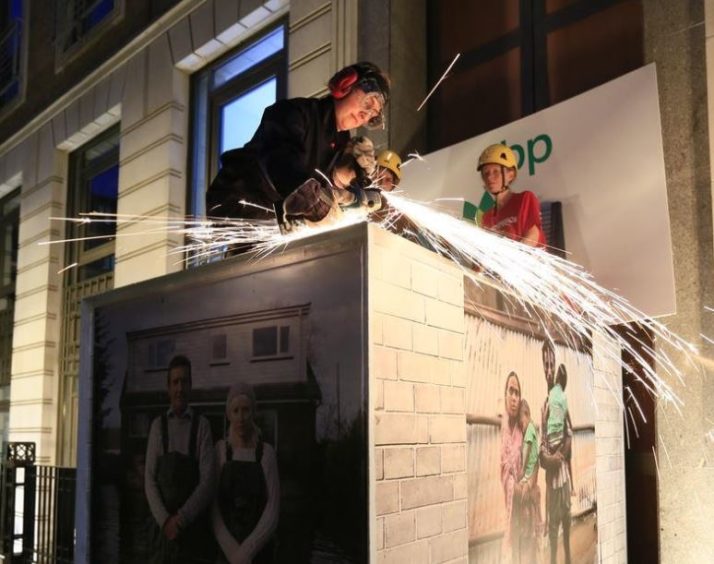 Greenpeace has shut down BP's headquarters in London on the eve of its annual general meeting in Aberdeen.
The activist group said volunteers this morning encased themselves in "toughened containers" weighing several tonnes each, blockading entrances to the HQ at St James' Square in London.
It has demanded that BP "immediately ends" all exploration for new oil and gas and switches to only investing in renewable energy.
BP said it welcomes debate and even peaceful protest on the climate challenge, but added that Greenpeace's actions were dangerous and police are working to resolve the matter.
Greenpeace also said a team of climbers are abseiling from the roof and blocking out windows with words spelling out "climate emergency" across the façade of the building.
It comes ahead of BP's AGM which will be held at the Aberdeen Exhibition and Conference Centre (AECC) tomorrow as the energy major faces increasing pressure on climate targets.
Several major shareholders have already backed a resolution which asks for BP to prove how its investments and overall business strategy are aligned with the goals of the Paris climate accord.
BP has been focussed on paying more than $60bn in fines and legal costs associated with the 2010 oil spill in the Gulf of Mexico, and has plans to rapidly expand oil and gas output to reach near parity with its larger peers.
However Greenpeace argues that if BP does not stop oil exploration, it "should wind down its operations entirely and go out of business".
Paul Morozzo, an activist who is occupying one of the containers, said: "We're shutting down BP's HQ because business as usual is just not an option. BP is fuelling a climate emergency that threatens millions of lives and the future of the living world.
"For too long, BP and the oil industry have paid lip service to climate action while lying and lobbying against it behind the scenes and spending billions scouring the world for more oil and gas.
"The reality is that BP's whole business plan is a heavy bet against our hopes to avoid a climate catastrophe and must change."
A spokeswoman for BP said: "We welcome discussion, debate, even peaceful protest on the important matter of how we must all work together to address the climate challenge, but impeding safe entry and exit from an office building in this way is dangerous and clearly a matter for the police to resolve as swiftly as possible."
Recommended for you

Extinction Rebellion activists dressed in rags and chains protest in Edinburgh