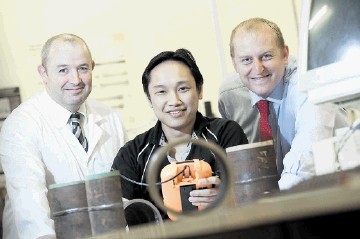 CorDEX Instruments has forged a strategic partnership with Aberdeen University, handing over the equivalent of £150,000 to provide explosion-proof technologies for research.
The deal will see CorDEX provide equipment and on-site training in the correct use of these groundbreaking oil and gas tools, which are certified for safe use offshore and in explosive environments.
Over the next three years, the Teesside firm is to donate its latest handheld devices to the university.
The ToughPIX digital camera and UT5000 Intrinsically Safe Thickness Gauge, which measures pipeline thickness to detect corrosion, are being supplied in the first phase.
Ryan Maurice, a Subsea engineering MSc student, is using the UT5000 – the world's first pipeline tester designed for use offshore – in a research project this summer.
He said: "My dissertation on pipeline corrosion and reliability aims to build a model for corrosion patterns which will be used as part of the university's overall research on this area, and may even be adopted by industry.
"It is crucial to have accurate results and the equipment we had before wasn't very reliable or quick.
"The UT5000 will not only provide enhanced time efficiency but will also validate the outcomes of my research.
"It is of great benefit as a student to be able to access these kinds of tools so we can be up to date with the latest developments in engineering, which will also stand us in good stead when we start our careers in oil and gas."
Dr Neill Renton, head of chemical engineering within Aberdeen University's Department of Engineering, described CorDEX Instruments' tools as "groundbreaking".
He said of the UT5000 device: "The cost and time saving on the administration alone is staggering.
"If you add to that the value of the data the tool records and its ability to build predictive maintenance reports, the impact could be far reaching.
"It has the potential to improve safety inspections in ageing assets, which supports the Health and Safety Executive's KP4 inspection standards introduced last year."
Tony Holliday, chief executive at CorDEX Instruments, said it was "incredibly important" for the firm to forge such links with key academic institutions offering engineering. He added: "We feel it is vital for students of this discipline to gain knowledge from industry practice and we hope to achieve this through the partnership."