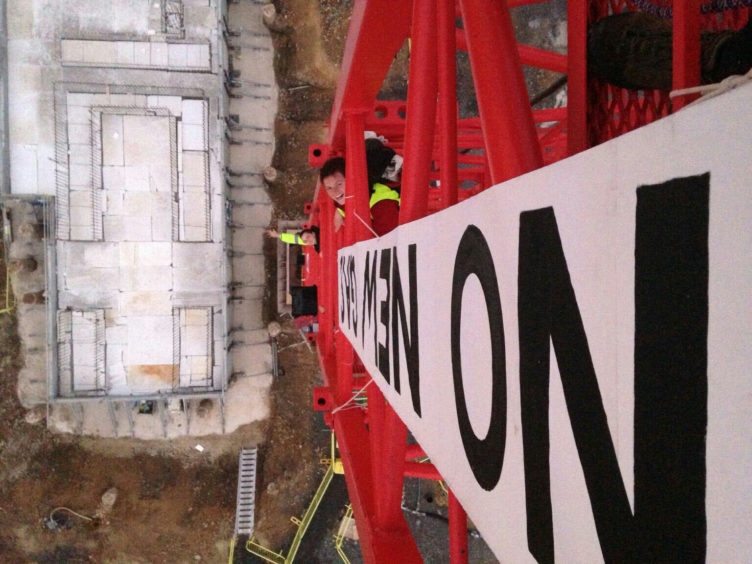 Protesters have targeted two energy companies over developing new gas power stations which they say spell "climate disaster".
Activists have launched a protest at the site of SSE's new Keadby 2 gas power plant in Lincolnshire, which is currently under construction.
They also targeted a building in central London to protest against plans by Drax to build a new gas plant in Yorkshire, but the offices are no longer the London base for the company.
Staff from Norwegian energy company Statkraft, Europe's largest renewables generator, were unable to get into their offices as a result of the protest.
The campaigners later said they were moving on from the offices in Moorgate to Drax's current London location to continue the protest.
Speaking from Keadby, protester Ellie Groves said: "New gas spells climate disaster, that's why we're here today at Keadby.
"Temperatures hit 38C in the UK last week and extreme weather is already devastating many parts of the world.
"Polluting gas power stations like Keadby line the pockets of Big Six energy bosses at our expense. We need clean, cheap, community-controlled renewable power," she urged.
Speaking from the protest in London, Milo Phillips said: "The government's promises to act on climate change are meaningless while dirty gas power stations are still being built.
"Drax's gas plant in North Yorkshire would be the largest gas power station ever built in the UK.
"Drax and Keadby are the first in a possible wave of a new generation of dirty mega projects, built to pollute for decades."
A spokeswoman for Drax said everyone had a right to peaceful protest and that climate change was the biggest challenge the world faces.
She added: "Natural gas has an important role to play in supporting the growth of renewables like wind and solar, enabling the transition to a net zero carbon economy.
"When the wind doesn't blow and the sun doesn't shine, gas power stations can provide the electricity we need.
"Building new, more efficient gas power stations will help the UK to meet its climate objectives while ensuring homes and businesses have the power they need at a price they can afford."
In a statement, SSE said it was aware a group of protesters had gained access to the construction site of Keadby 2 power station, its priority is the safety of everyone on site, and it is working with police and authorities to resolve the situation.
"SSE's business strategy addresses the challenge of climate change at its core, as the leading developer, owner and operator of renewable energy across the UK.
"However, we understand that flexible thermal generation will play a critical role in the transition to 'net zero' emissions, particularly with the emerging potential for carbon capture and storage technologies," the company said.
It also said it expected Keadby 2 to be the "cleanest and most efficient" gas fired power station in Europea, displacing less efficient plants, complementing renewables and safeguard customers' power supplies.
Recommended for you

Peterhead Power Station expansion faces ire over increased emissions