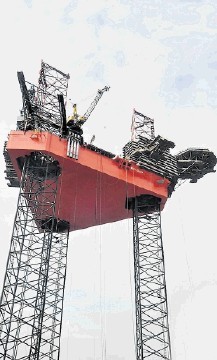 NORTH Atlantic Drilling has taken delivery of a new harsh environment jack-up drilling rig, West Elara, from Jurong Shipyard in Singapore.
The $195million rig is en route to Europe and is scheduled to arrive at Westcon Shipyard in Olen, Norway, early next month, where final commissioning will take place.
It is expected to begin operations for Statoil on a five-year contract during late November.
The jack-up is the first of two Gusto MSC CJ70 150A rigs to be constructed for North Atlantic Drilling, which is 75% owned by Seadrill, a Bermuda-registered but Norwegian drilling contractor.
This class of jack-up has been built for Norwegian requirements, and is ultra large, built for harsh environments and of high specification. It also matches the specifications of the largest jack-up drilling units in the world.
West Elara is designed to work in water depths to 150m, and possesses a higher "variable deck load" capability and a higher operating efficiency compared to earlier generation jack-ups.
North Atlantic says its size and specification means that West Elara will be suited to well testing and early production.
Alf C. Thorkildsen, chief executive at Seadrill Management and chairman of North Atlantic Drilling, said: "We look forward to seeing this new and advanced drilling unit operating on the Norwegian Continental Shelf, creating growth for North Atlantic Drilling ahead of its listing on the Oslo Stock Exchange.
"It will also increase our presence in this key region and further strengthen our relationship with Statoil, one of our most important customers."
Meanwhile, the Italian company Saipem is set to take delivery of another Far East-built rig, courtesy of Keppel FELS of Singapore.
The Scarabeo 9 is a sixth generation ultra-deepwater Frigstad D90 class semi-submersible, that will be capable of working in water depths to 3,600m.
Keppel's current projects for Saipem include the completion of a new-build pipe-laying vessel, Castorone, which is being jointly undertaken by Keppel Shipyard and Keppel Singmarine.
The yard has just won another jack-up build from Transocean, following an order for two units of the same type in February.
The Super-B class Bigfoot design is set for delivery in the third quarter of 2013.
Wong Kok Seng, managing director of Keppel FELS, said: "We are pleased that Transocean has chosen to exercise their option in building another jack-up rig to our proprietary design.
"We have developed a winning collaboration with Transocean over the years through numerous projects.
"In working with forward-thinking customers, we are able to customise innovative products well suited to meet the needs of the market."
Tailored to suit the US company's requirements, the KFELS Super-B class Bigfoot is designed with larger spud cans (feet), expanding its operational coverage to more places, especially areas where soft soil remains predominant.
Having larger spud cans enables the unit to operate efficiently while minimising potential leg penetration problems in soft soil conditions.
With a 1.5million pounds capability drilling system and a maximum combined cantilever load of 3,200 kips, the Super-B class Bigfoot has immense horsepower during drilling operations.
This class of rig is capable of drilling at a 22.86m (75ft) outreach, allowing for coverage of a larger well pattern.