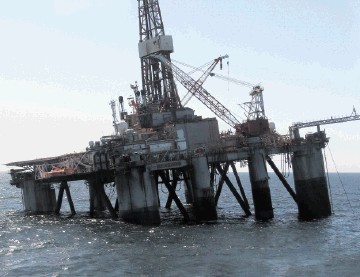 Scottish oil workers had to evacuate a drilling rig off the Falkland Islands after part of it started to sink during a power cut.
The Ocean Guardian, which is owned by Aberdeen-based Diamond Offshore Drilling UK, is believed to have got into difficulty when two of its anchors were being moved.
One corner of the rig began to list by six degrees after one of the ballast tanks began filling with water when the power went out.
Nobody was harmed during the incident – but last night one north-east worker, who did not wish to be named, said he believed the situation could have been more serious, although the rig could not list any farther.
He said: "Very quickly the rig started to list and they mustered all crew in the lifeboats. During this time they started trying to plug vents to stop the inflow of water or at least slow it down, which it did, but the rig was way over by this time.
"During this time crew were in lifeboats for four hours then the helicopters were on their way. We eventually got fire hoses passed down to one of the anchor boats and started pumping water to bring it back to an angle at which the helicopter could land on deck.
"We still had no power after five hours and started getting all non-essential personnel off the rig. Eventually, after eight hours and in darkness, we got the engines started and power back on and used an emergency de-ballast pump. It's a good job it was flat calm and in the daylight when it started or it could have been really bad."
The rig was being used by Rockhopper Exploration as it searches for oil around the Falklands.
It is understood that around 18 essential personnel remained on board and the rig has moved to a new project already.
In a statement to the stock market, the firm confirmed the power cut, but made no reference to the listing.
It said: "Rockhopper Exploration plc confirms a loss of power occurred on the Ocean Guardian drilling rig on October 16, while the rig was preparing to move to its next well location after the successful plugging and abandonment of well 14/10-8.
"As a result of the loss of power, all non-essential personnel were down-manned, as a precautionary measure, by helicopter to Stanley.
"The incident has had no environmental impact and resulted in no injuries."
The firm made no further comment yesterday.