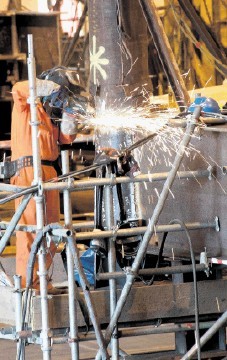 THERE has been a swing in the weather vane of UK North Sea platform fabrication – and it is starting to show.
Busy at work on the recently dormant Hadrian Yard on Newcastle's River Tyne are hundreds of workers constructing Apache North Sea's Forties Alpha satellite platform, one of a number of new platforms destined for the North Sea.
Next door, three of Shell's Indefatigable field platform jackets are being decommissioned.
At Heerema in Hartlepool Centrica's Ensign platform is nearing completion.
Next will be York.
SLP Engineering in Lowestoft is building a minimal facilities gas platform for the southern North Sea and A&P Tyne has just completed its second major subsea fabrication project.
More is on the coming up on the horizon, most notably BP's Clair Ridge development off Shetland.
It is not just oil and gas work keeping yards busy – offshore wind and marine energy has been helping boost yards.
Oil and Gas UK's Ken Cruickshank said: "These projects will support employment for hundreds, even thousands, of people in the vicinity of the fabrication yards and bolster payroll and national insurance contributions to the exchequer."
However, he warned: "In order to sustain the opportunities for the UK supply chain to service the oil and gas industry, it is imperative that investment in the development of the UK's oil and gas reserves is maximised.
"The surprise tax increase announced in the 2011 Budget did not help as it damaged investor confidence."
There is still work that has been sanctioned, including the Alpha satellite platform for Apache, one of the many firms that has been vocal over the North Sea tax.
It has also been one of the stars of extending field life, specifically on Forties.
While BP had planned to start decommissioning the Forties field from next year, Apache has invested more than the £3billion it paid for it, starting with major seismic acquisition, more than doubling reserves estimates in the process.
Despite intuition suggesting otherwise, Neil Rogerson, project manager on the Alpha satellite, said greenfield was seen as a more cost effective option.
"We had done some brownfield work on other platforms but it's quite a task to keep a platform going while installing equipment," he said.
Potential greenfield was not entirely new to the Forties field, which first found oil 40 years ago.
BP had been considering a new central processing platform before it sold the field to Apache in 2003.
It was the need for 18 new well slots following seismic work on the field and infill drilling, as well as for additional power generation, gas lift and water capability for the entire field that prompted the new satellite.
Apache tendered and awarded the contract to OGN in early 2010, working up a functional specification the pair are now working through.
Load-out is due on July 4, 2012, with commissioning in September 2012, and drilling using a Rowan Gorilla-class jack-up.
Originally planned as a 1,600-tonne structure, bridge linked to the Alpha platform, it will now be a larger 6,000-tonne structure due to additional facilities it will take on.
For OGN, which runs the former AMEC Hadrian yard, the timing was good.
OGN is the new name of SLP Group, after one of its subsidiaries, Lowestoft-based SLP Engineering, went into a lengthy administration.
SLP's Engineering's assets and intellectual property, including name, were eventually bought by Smulders, which meant the rest of the group had to be renamed.
The group had bought the substantial Hadrian Yard from Shepherd Offshore before the administration and they had decided to ring fence the group from its subsidiary to protect the rest of the business, said Craig Melville, chief commercial officer.
He said the market was now looking good.
"Infrastructure is being contemplated and it's a good fit for what we do.
"One or two operators are talking about bigger decks – such as Statoil's Mariner and Bressay.
"We could do the topsides here but not the jackets.
"But for us there are genuine prospects out there."