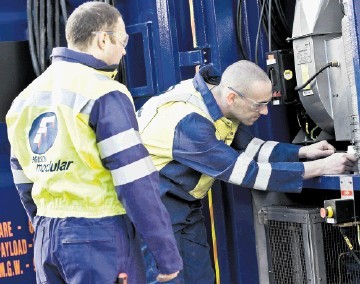 NORTH-EAST oil service firm Ferguson Group reported a jump in annual profits and turnover yesterday and said that it had made a good start to the current year.
Pre-tax profits and turnover in 2010 were both up by 8% to £14.6million and £38.5million respectively.
The company also revealed plans to recruit a further 15 people in the next 18 months, most of them locally.
Ferguson is a specialist in the rental of containers, accommodation cabins and engineering modules to the offshore energy industry worldwide.
Finance director Mike Melville said: "All of our operations continue to perform strongly and our growth strategy has a clear focus on international expansion.
"We have continued to invest significantly in our rental asset fleets both in the UK and at our overseas locations. At the end of 2010, our asset rental fleet exceeded 14,000 units, with a replacement value in excess of £150million.
"We have made a good start to 2011, with our first six months ahead of expectations. We have recently moved into a new purpose-built headquarters in Kintore, which as well as housing our group staff will also be the new base for our module rental business."
Other initiatives at the group have seen its accommodation service vessel win its first charter, in UK waters, and the launch of new company IceBlue Refrigeration Offshore to meet growing demand for offshore refrigeration containers.
Mr Melville added: "As well as strong demand generating higher levels of business with existing customers, we are winning new work at all our international bases which represents around 75% of group turnover.
"Our main focus will continue to be the provision of a wide range of containers, engineering modules and accommodation modules at the key logistics hubs that we operate around the world.
"While we will continue to focus on the oil and gas industry, we have identified major opportunities in the renewables sector, and increasing demand coming through in all the markets we operate in which continues to underpin the ambitious growth plans we have in place for the company."
Ferguson Group employs more than 150 people worldwide through its Ferguson Modular, Ferguson Seacabs and IceBlue divisions.