Around 1,100 people gathered in Aberdeen at the weekend for one of the highlights of the Scottish social calendar – the Press and Journal Energy Ball.
Saturday's fourth annual event in the Press and Journal Arena at Aberdeen Exhibition and Conference Centre was so popular it was sold out weeks ago.
Guests representing a wide spectrum of the business community from home and abroad enjoyed an evening of top-class food and entertainment, with cash raised from the event going to Monty's Maggie's Appeal.
Aberdeen Journals managing director Alan Scott said yesterday: "It was a tremendous night. Without question, the Energy Ball has become the biggest dinner event in the north-east.
"People were asking on Saturday night about advance booking of tables for next year – and that's before we have even announced anything about that event yet.
"The fact it was a sellout highlights the popularity of the ball, and it is great to be able to raise money for charity in the process."
About £30,000 was raised for Monty's Maggie's Appeal.
Global Energy Group was gold sponsor of the ball, which was organised by George Walker.
Global chairman Roy MacGregor said the ball was always a "must do" event for the company, which has head offices in Aberdeen and Inverness.
He said: "Once again, it was a great night. This year's sellout ball has, in our minds, been the best yet and seems to improve year on year.
We were delighted to be gold sponsors. The organisers have put in a huge amount of hard work to ensure that, once again, this event was a great success. We truly value the importance of supporting this leading event and our key clients thoroughly enjoyed their evening with us in a warm and friendly atmosphere with the usual high-quality catering and entertainment.
"Importantly, it also proved a highly successful evening for the ball's excellent official charity, Monty's Maggie's Appeal."
Other sponsors included CHC Helicopters and Eastern Airways.
CHC Helicopters' regional vice-president Nick Mair said: "The Energy Ball is one of the highlights of the north-east's corporate calendar and as one of this year's sponsors we were delighted to support such an event.
"The ball celebrates the success of Scotland's energy sector and, as a long-established player in the industry, it was excellent to see such a diverse cross-section of organisations show their support."
Eileen McBay, sales manager at Eastern Airways, said: "Working so closely with the oil and gas industry and providing city links and connections to relevant destinations, we were again delighted to have the opportunity to join in this celebration of the energy industry.
"We've supported the Energy Ball since the inaugural event. Saturday was another fantastic night which really demonstrates how buoyant the sector continues to be."
Monty's Maggie's Appeal is led by Maggie's Cancer Caring Centres and the Elizabeth Montgomerie Foundation – the charity set up by golfer Colin Montgomerie in memory of his mother, who died from the disease.
It is aiming to raise £3million to open a Maggie's centre at Aberdeen Royal Infirmary to provide practical and emotional care to people with cancer and their families from across the north-east.
Aberdeen is the only major Scottish city not to have a Maggie's centre at present and the Press and Journal is supporting the campaign.
* * *
THE Energy Ball is the biggest dinner of the year for Aberdeen Exhibition and Conference Centre.
The venue had a team of more than 160 staff on duty to make sure everything ran smoothly.
Eleven chefs, eight kitchen porters and 70 food waiting staff were on duty along with 70 bar staff.
The majority of the bar and food waiting staff were students, who fit their part-time jobs around studying in the city.
More than 1,000 fillet steaks were among mountains of food prepared for the dinner, and the topnotch food was washed down with hundreds of bottles of wine.
Brian McDonald, the centre's executive head chef, said: "This is a challenge for our in-house catering team, but one we relish every year.
"It isn't so much the number of people attending the event, but how we can make it better each year to ensure the guests have an amazing night and thoroughly enjoy their meal.
"We strive to deliver a perfect meal to all the guests, including a large number with special dietary requirements. Our aim is to ensure the event returns to our venue year on year because they are delighted with the quality of food and service, not because we are the only venue which can cater for the large number. Preparing and serving a perfect meal to over 1,000 people is hugely satisfying for myself and my team – it's one of the highlights of our year."
Transforming the arena into a beautiful ballroom was the work of the centre's event management team, under the direction of operations director Fiona Duguid.
Centre managing director Brian Horsburgh said: "The Energy Ball is always very popular and a highlight in the energy sector's year in Aberdeen.
"As the national energy exhibition centre, it is very fitting that this event is held at our venue. The centre's in-house events management and specialist catering teams provide an experience unrivalled in the north-east, and we are proud to host such an important event as this.
"We had 8,500 Iron Maiden fans at the centre only a few weeks ago and now we have more than 1,000 people attending the Energy Ball. The variety of events we have here is truly amazing."
Recommended for you
X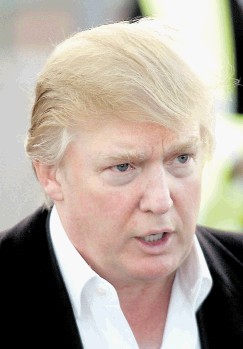 Trump group vows to fight plans for £200m windfarm