A record offshore licensing round last night lifted the gloom cast by yesterday's news of soaring unemployment and fears of an even deeper recession.
Energy Minister Mike O'Brien announced a record 25th licensing round, with the offer of 171 licences to explore for oil and gas in 257 blocks, compared with 150 licences a year ago.
He claimed there was "record interest from companies wishing to exploit the UK's considerable oil and gas resources", despite falling oil prices.
It came as Bank of England governor Mervyn King predicted a 2% slump in the UK economy next year, UK unemployment figures soared by 140,000 – 13,000 in Scotland – Scottish home sales continued to slow, and the influential Fraser of Allander Institute warned that 50,000 more Scots would be out of work within 12 months.
Hopes for the economy of the north and north-east were raised as plans for a North Sea "supergrid" to collect and transmit electricity from renewable sources around the Scottish coast and northern European countries entered a new phase.
First Minister Alex Salmond said publication of a preliminary or scoping study of the supergrid's feasibility was a major step forward.
"It is vital that we harness our renewable resources and develop a grid infrastructure so that we can export the massive quantities of green energy Scotland is capable of producing," he said.
Among other rays of hope:
Mr King signalled a willingness to see interest rates fall to zero if necessary to save the economy.
He gave his blessing to a government give-away in Chancellor Alistair Darling's autumn mini-Budget later this month.
The Fraser of Allander Institute predicted a 1.1% contraction in the Scottish economy, less that the 2% predicted across the UK .
The success of the 25th licensing round was hailed by Tom Smith, chairman of Aberdeen City and Shire Economic Future, who said high interest in the North Sea from a mix of oil and gas operators "clearly communicates the message that the North Sea is alive and kicking".
He said: "This will signify increased exploration and appraisal activity, which will have the overall effect of creating and sustaining jobs."
Scottish Council for Development and Industry government affairs manager Niall Stuart said: "We are all concerned about the outlook for the economy and employment but we have to remember the incredibly strong and vibrant sectors like oil and gas, renewables and parts of our hi-tech manufacturing base."
The operations director for industry body Oil and Gas UK, Paul Dymond, said it was now "more important than ever that the UK Government takes moves to boost investment so that the industry can ensure the oil and gas sitting on our doorstep fulfils its potential in contributing to the nation's energy supply".
His view was supported by West Aberdeenshire and Kincardine Liberal Democrat MP Sir Robert Smith with a plea to Mr Darling "to reject siren calls for a windfall tax and engage with the industry on the best way to encourage maximum investment".
SNP energy spokesman Mike Weir, MP for Angus, said: "There is a great future in Scotland's oil, which shows what could be done if we developed an oil fund to help Scotland through the recession."
Aberdeen North Labour MP Frank Doran said that, even with the challenges posed by falling oil prices, "there is still a great deal of optimism in the offshore industry evidenced by the success of this round".
Mr O'Brien said: "While there's not an endless supply of North Sea oil and gas, with up to 20billion barrels or more left under the sea, we can't overlook its contribution to our security of energy supply as well as to our economy."
Forty-six blocks are being subjected to detailed assessments to ensure oil activity does not harm the environment.
Decisions on two areas west of Orkney are being delayed because they are near protection areas for seabirds, and special areas of conservation including sea cliffs, reefs and coastal lagoons.
Final decisions are still awaited on 24th-round blocks in the Moray Firth, where critics hope exploration will be vetoed for fear it harms a dolphin colony.
Recommended for you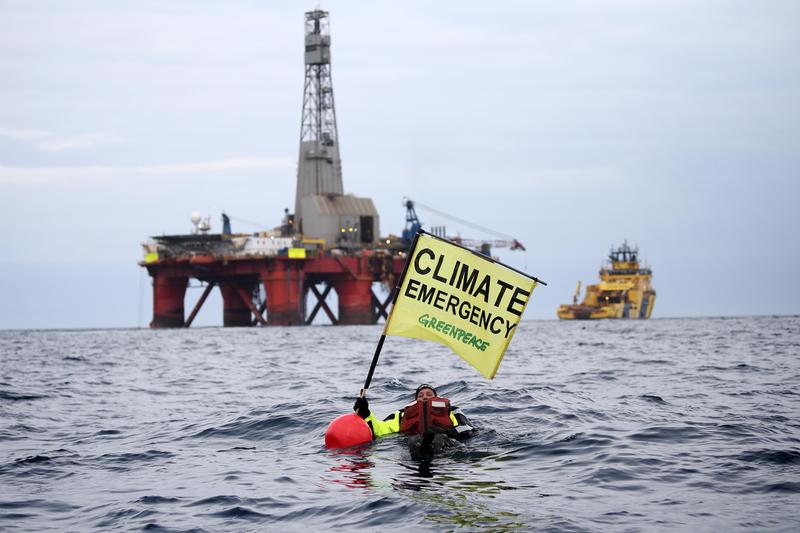 Greenpeace readying lawyers to oppose new North Sea licences