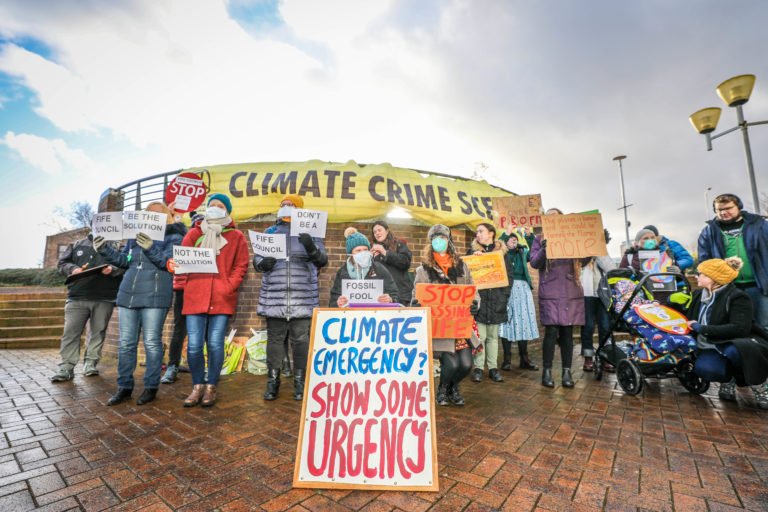 Residents and environmental campaigners are rejoicing after controversial plans to build a gas peaking plant in the shadow of a Fife village were thrown out for a second time.
Those opposed to the 19.9mw peaking plant, which developers wanted to build just 250 metres from homes in Hillend village in Fife, cheered and applauded after the decision of Fife Council's Planning Review Body ruled to uphold its decision i2019 to reject the plant.
The decision ended over four hours of intense deliberations by a five-man panel which heard deliberations from both the applicant Gas Generation Growforth Ltd, and local community groups.
Earlier, Hillend residents were joined by around 70 activists from Extinction Rebellion Fife and Friends of the Earth Scotland, many wearing dust masks to symbolise what they see to be the plant's potential health implications,  in a noisy protest outside the council's headquarters ahead of the appeal hearing.
During the lengthy hearing, Jethro Redmore, from Redmore Environmental, speaking  on behalf of the applicant Gas Regeneration Growforth Limited, had defended the application's air emissions impact modeling based meteorological data based on that of Edinburgh Airport 13 km away.
He added that the emissions impact of the plant was way below that of the minimum legal limits for the annual proposed plant operations of an expected 1,500 operating hours per annum.
However, Councillor Mino Manekshaw, said the new evidence present by the applicant bidding to overturn the previous decision had done nothing to ease serious concerns to how the plant would impact on the health of those living within the area.
He said: "Both the Scottish Environmental Protection Agency (SEPA) and the NHS originally objected to the plant on due to concerns and I've seen nothing new here today to change that view."
He added that the visual impact on the local amenity was also of great concern with the village set to overlook the plant in a valley which would leave the numerous 14 metre high stacks at on a level with local homes which, he said, raises fresh concerns over the dispersal of emissions.
Only Councillor Bill Porteous, spoke in favour of the application but faced the cry of "we live there" by one onlooker after he said he's visited  the site and didn't see the plant having any greater visual impact."
The panel eventually agreed that four to one to reject the applicant's appeal.
Commenting after the decision a jubilant Ian Wragg from the resident's action group, said the decision was a momentous one for the community.
"The Hillend Action Group is clearly delighted that common sense has prevailed and councillors  have listened to air quality concerns raised by local people, the SEPA and the NHS.
"Building fossil fuel power stations such as this simply accelerates climate change and prolongs or reliance on fossil fuels. They also pollute our environment with toxic gases that harm the young, elderly and those with pre-existing medical conditions."
Representatives of the applicant were unavailable for comment following the decision
Recommended for you

Controversial giant windfarm could bring £150 million to Aberdeenshire