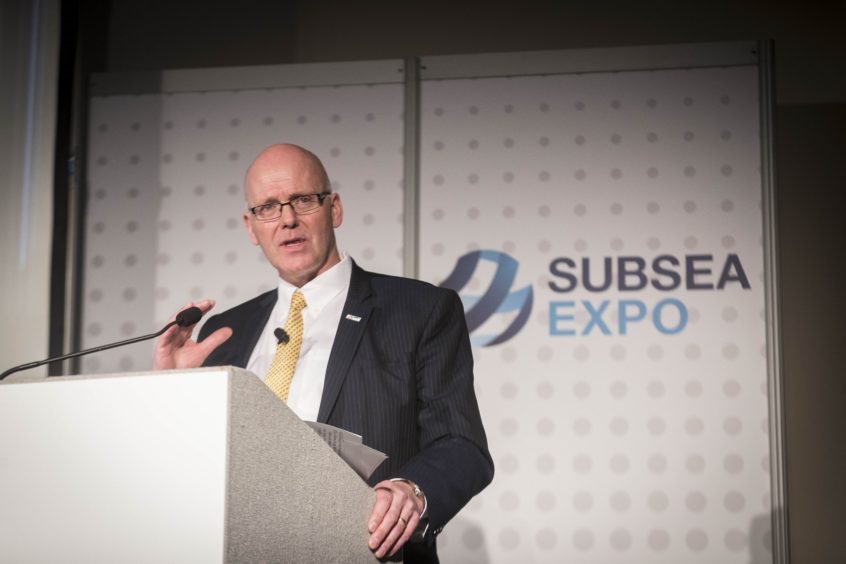 On the face of it, the UK-based subsea sector appears to be faring reasonably well. This is despite lingering impacts from the 2014-17 oil and gas slump, mounting pressures from the climate change crisis and major geopolitical forces at work.
However, subsea is becoming markedly different from 10 years ago, even five, according to Neil Gordon, chief executive at trade group Subsea UK.
"If I speak with any of the major companies I am told that where the industry is now is completely different to anything previously experienced in the history of offshore energy," said Gordon.
"There are various factors at play, not least the growing need for the oil and gas industry to decarbonise the way it goes about conducting its business within the wider energy transition.
"Yes, we have an oil and gas industry and it will continue for some time yet, but everyone has to think beyond that. What strategies should they develop and adopt to enable them to embrace what will be a very different future?
"Subsea has been a success story both here in the North Sea and worldwide for many years and, in terms of oil and gas, has done much to drive costs down. That expertise is now needed for low carbon energy, especially offshore wind.
"While there is a perception that the subsea contracting community is obliged to go on kowtowing to big oil as it has done for nigh-on 50 years, the sector is now very alive to the new energy opportunities coming to the fore, not least offshore wind."
Offshore wind is relatively small compared to oil and gas, though the International Energy Agency is making increasingly bold predictions about its future size, most recently that it will become a $1 trillion industry by 2040.
Stock markets, pension funds, insurance houses and even hedge funds around the world, particularly in Europe and especially London's Square Mile, increasingly view oil and gas and coal as high carbon pariahs and big contributors to climate change.
Gordon agrees: "Money's going to get increasingly tight for the oil and gas industry in the future and that has to be borne in mind.
"We've all heard at their AGMs that big companies are coming under growing pressure for change from their stakeholders and shareholders.
"There's also the big realisation in the subsea industry that its companies no longer have to endure the peaks and troughs that characterise oil and gas by grasping the huge low carbon energy opportunities now coming forward.
"It is important for everyone in the North Sea oil industry to understand that the recovery from the 2014-17 downturn does not mean things will revert to 'just the way we were'."
So how robust is the current recovery?
Subsea UK's latest study indicates that in 2019 the total value of UK subsea output – North Sea domestic and exports – was around £7.76 billion; up £216 million on 2017, much of it delivered by tier one contractors and manufacturers.
Compare this with the £8.9bn recorded pre-downturn.
Subsea exports dropped sharply from £4.16bn in 2017 to £3.36bn in 2019 fiscal, accounting for 43% of total annual output, compared to 55% in 2017.
A major factor apparently cramping the subsea sector is that, rather than look for the traditional long-term 20-30 years investment in new producing fields, UKCS operators especially have become highly focused on short-term cash generation from existing assets.
"It's about maximising recovery via existing infrastructure and avoiding big, new, expensive deepwater developments. That's been done really well here in the North Sea and it's very exportable to other areas," Gordon said.
The global picture appears to be more positive. According to a recent market report by Rystad Energy, around 250 new oil and gas projects are likely to be sanctioned for development this year, up from 160 in 2016, and "bottlenecks among suppliers appear inevitable".
Rystad said the 13 new production ship orders placed last year have pushed to 28 the overall current order book for FPSOs. It warns that, not only will yards struggle to build and deliver on time, subsea will be hit too.
"The installation market for subsea umbilicals, risers and flowlines (Surf) order books are swelling and players are racing to keep pace given the vast number of Christmas trees – nearly 600 in all – that were ordered in 2018 and 2019," says Rystad.
"Furthermore, marine contractors are already scheduled to install about 4,000km of subsea oil and gas flowlines and umbilicals in 2020.
"Deepwater projects are now in a challenging situation as they are heavily dependent on Surf and FPSO contractors."
One positive for the UK is that so much of the technology developed over the past 20 years is applicable to offshore wind, which is precisely where the biggest low carbon offshore energy future currently lies.
Gordon: "Think of survey operations for pipelines and oil and gas infrastructure on the seabed. It's little different to surveying for cable arrays, turbine foundations and so on. Same companies, same technologies. A survey is a survey.
"However, it's been a bit different when it comes to the construction vessels invested in by the likes of Subsea 7 and TechnipFMC but they're now beginning to adapt as well."
If one looks back 10-20 years, oil and gas operators had offshore contractors under their thumb. And if a contractor looked left or right at non-oil opportunities, it got stomped on.
"It was a myth," says Gordon. "You're going to go where you can get the best return for your organisation based on the stuff you know.
"It's not in any operator's interest to have a supplier that's totally reliant on it."
The transition of subsea firms to becoming offshore energy suppliers and contractors is clear. But how successful are Subsea UK's 300 or so members at getting aboard the transition?
"I think some companies got it wrong initially," Gordon said. "There's a fundamental difference between working on oil and gas projects and offshore wind.
"The former is generally one-off by nature with bespoke engineering.
"With offshore wind it's about standardised turbines, foundations and so-forth. Dutch companies have been particularly successful at adapting to the two different markets and driving cost reduction.
"Take subsea cabling for example. With cost reduction comes risk and associated with subsea cabling are some of the highest risks. So when you have these cost pressures and demand for complete reliability you have a potential clash. It's an interesting challenge."
It turns out Gordon is unsure as to what the real energy transition opportunities are for the subsea contracting and suppliers community resident in the UK. Why?
"I think they missed the get-involved-early boat – big opportunities like turbines, blades and so-forth," he says.
"But as offshore wind moves into deeper water and with the advent of floating turbines, another set of opportunities seems to be emerging for subsea firms based here to get involved in.
"At Global Offshore Wind in June, I attended one of the plenaries where Equinor's offshore wind director presented on its ambitious offshore wind plans and said that much of the technology being developed for floating turbines had come straight out of the offshore oil and gas technology book.
"Take JDR Cables. They started out at around 20% renewables and 80% oil and gas but they've turned that on its head and it's now around 80% renewables.
"When it was founded, Rovop started in offshore wind and then branched into oil.
"Within months of start-up in 2011, the Aberdeen firm was working on major offshore wind farm projects across Europe and quickly earned a reputation that lived up to its business values. Those early successes quickly led to the oil and gas market opening up for the firm."
According to Gordon, a fair number of north-east English companies have grown up on the back of oil and gas before diversifying into offshore wind.
Subsea UK's latest analysis says 80% of tier one and larger companies are predicting growth in their revenues from the renewable energy sector.
Rystad is predicting a "massive increase" in demand for installation of offshore wind power cables, climbing from 1,800km in 2019 to an unprecedented 4,300km in 2022, "thereby surpassing the amount of subsea cable installation work from the oil and gas industry".
Rystad says: "Major Surf players like Subsea 7 and Saipem are in a great position to capitalise on this trend, having managed to diversify from being pure oil and gas players to become substantial drivers within the energy transition.
"This segment will increasingly occupy vessel capacity from the installation fleet, likely causing a significant jump in service prices and exacerbating the contractual challenges faced by operators."
With the possibility of a subsea bonanza on the horizon, does this mean the subsea supply chain based out of Aberdeen especially is at last recognised by big wind as a resource that can no longer be cold-shouldered, as was the case five and more years ago?
"Yes," says Gordon. "The opportunities coming forward have grown exponentially over the past few years, with subsea companies genuinely being given the chance to get involved.
"Hats off to AREG, Scottish Renewables and RenewableUK for what they have done, helping companies towards the offshore wind market.
"It's hard enough in oil and gas, but to try and break into an industry about which you might have little idea is tough."
Recommended for you

JDR subsea cable manufacturing facility passes key construction milestones