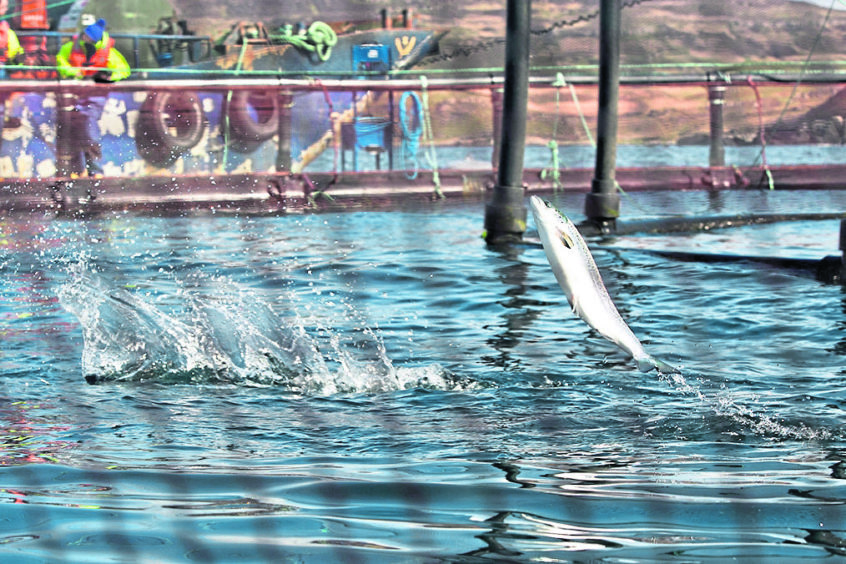 Subsea and renewables firms can help unlock Scottish aquaculture's potential and help feed the world.
That is one of the messages that will be heard in Aberdeen next week, when a leading figure in the £1 billion-plus a year fish and shellfish farming industry addresses delegates during the three-day Subsea Expo conference and exhibition at P&J Live.
Heather Jones, chief executive at the Stirling-based Scottish Aquaculture Innovation Centre will tell them her sector faces "pressing" challenges, both biologically and in terms of regulation.
"Scotland's share of global production has not grown anywhere near as rapidly as Norway, among others," she said yesterday, adding: "That creates a wealth of opportunities for those who can help Scottish companies innovate to overcome these obstacles.
"A big part of helping the sector grow will be the ability to embrace new locations and technologies that drive efficiency and sustainability.
"In particular, this will mean moving into more challenging environments such as higher energy, further offshore locations.
"We need new skills, equipment, and technology to make these types of sites viable. In that respect, subsea companies can be a key part of helping Scotland's aquaculture sector realise its ambitions."
Ms Jones, a former deputy director at Marine Scotland, said fish farmers were looking for engineering solutions that work in deeper waters, with stronger currents and winds.
She added: "Fish health remains a major priority and the sector is looking for technology that can monitor fish and environmental conditions around sites
"Early warning systems, as well as connectivity and data management technologies that provide critical business intelligence are another area of focus.
Sustainability is another key theme … and there are opportunities for integrating renewable energy technologies into farms, or vice-versa.
"There are also areas to be explored around the collection and upcycling of waste, capturing waste feed and faeces from fish farms, potentially using them to realise commercial value as fertiliser, biofuel, or another product."
Subsea firms are already eyeing opportunities in aquaculture, the boss of the industry's trade body said yesterday.
Neil Gordon, chief executive of Subsea UK, added: "Our recent business activity review reveals that the emerging aquaculture sector is attracting subsea companies.
"The findings underline the subsea industry's potential to capitalise on the 'blue' economy and become an even more vital contributor to the UK economy.
"The UK is universally recognised as a global leader and pioneer in subsea engineering.
"Overseas competitors cast covetous glances at the UK's excellence in project management, design engineering, asset and operational management, design and manufacturing of advanced equipment, research and development, safety management, training and education and professional services.
"The UK's subsea SMEs (small and medium-sized enterprises) are among those driving forward capabilities which are highly transferable into marine renewables and other industries."
Mr Gordon described the world's oceans as "a source of health and wealth", containing rich, valuable and diverse resources.
He added: "The key strengths offered by subsea to tackle the challenges faced by the aquaculture sector can be seen in areas such as academic marine research capability, the cross-over with environmental assessment skills, the development of intricate intervention tooling and job-specific sensor and monitoring systems, and expertise in automation and marine monitoring."
Around half a century ago, Scotland's economy was transformed by the discovery of oil in the North Sea.
As decommissioning begins and Scotland undergoes another period of transition, new opportunities are emerging. One of the biggest is in aquaculture and although well-established in Scotland, the sector has a great deal more potential.
By 2030, the world will need to produce 70% more food using fewer resources with a minimal environmental footprint. Aquaculture will be a crucial part of meeting that need, with finfish and shellfish production a highly efficient way of producing protein, not only in terms of CO2 emissions, but water consumption and feed conversion too.
At present, just 2% of the food energy for human consumption comes from the sea. Farmed salmon represents just 3.2 million tonnes of production, against 118.2m and 107.1m for pork and chicken respectively.
Scottish aquaculture could make a major contribution to strengthening global food security and tackling climate change.
The sector is thriving as it aims to grow sustainably. Around £200 million of capital investment is planned per year to deliver Scotland's goal of doubling its economic contribution to £3.6 billion by 2030, supporting 18,000 jobs.