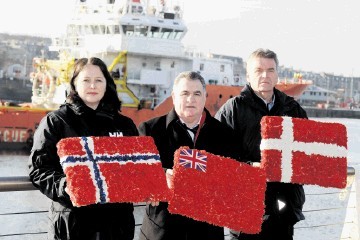 Trade unions representing North Sea offshore workers vowed yesterday to tackle what they said could be a catastrophic trend in the use of low-cost labour.
Unions including the RMT and Unite, together with their counterparts in Norway, Denmark, Russia and others under the International Transport Workers Federation (ITF), say that increasingly vessels in the offshore oil and gas industry under a "flag of convenience" and national flags are operating using cheaper overseas workers.
The unions claim this erodes opportunities for workers from the North Sea region. Labelled "social dumping", they say the trend is reducing job opportunities for seafarers in the North Sea and exploiting low-cost labour.
Yesterday, at an event in Aberdeen in memory of dead seafarers, the unions launched a campaign against the practice and called for an internationally agreed minimum wage for all seafarers working in the North Sea to address the problem. RMT national secretary Steve Todd said: "The problem has been around for some time, but it is getting worse and the impact on skills shortages and jobs could be catastrophic.
"We need to speak to Oil and Gas UK, which represents the operators, who can influence what types of vessels are being used and what crews are being used. We also need to get the immigration authorities to make sure they issue the right permits. And we need to lobby the government."
He said at one point there were about 3,000 UK ratings – generally support staff – in the industry and that was now down to about 1,000 or fewer .
He said workers on Indian-flagged vessels were earning $500 a month: equivalent to about £1 an hour because of the hours they worked. It was suspected some are paid less.
Oil and Gas UK said yesterday the matter was not within its remit to comment.
The UK Chamber of Shipping said: "The chamber is endeavouring to increase training and employment opportunities for UK ratings and has recently mounted a successful campaign to preserve £100,000 per year of government funding to support ratings' training. This is the best way of securing the long-term competitiveness of UK ratings."