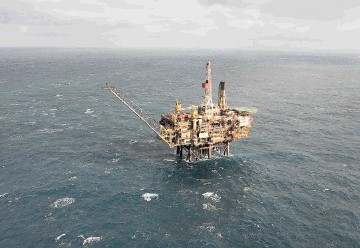 The Shell platform at the centre of the UK's biggest oil leak in a decade has been evacuated – after gas started seeping out underwater.
Non-essential workers have been taken off the Gannet Alpha after natural gas escaped on Monday.
The alarm was raised after a sheen was seen on the surface of the water.
The company is already facing prosecution over a major spill in August last year, when more than 200 tonnes of light crude spewed into the North Sea. Now the Health and Safety Executive has started a fresh probe.
A spokesman said: "Inspectors will be on the platform once the blow-down – depressurisation of the platform – is complete."
Shell said a "shimmer" had been spotted on the surface of the sea – close to the platform – after the latest incident, but flyovers by spotter planes have failed to find any evidence of this.
A further flyover was carried out yesterday.
A company spokeswoman said: "There was a small release of natural gas beneath the Gannet Alpha platform on Monday afternoon.
"The platform was down-manned of all non-essential personnel as a precaution on Monday evening. This resulted in the platform being shut down, and an investigation is under way to establish the cause of the release."
About 50 people have been taken off the platform, leaving 28 essential staff onboard.
The operator faced criticism for its handling of the last Gannet spill, 112 miles east of Aberdeen.
It was accused of playing down the incident after it estimated 120 barrels had been spilled but later revised it to 1,300 barrels – making it the worst North Sea leak in a decade.
Shell is still awaiting the outcome of an investigation into that incident.
A spokesman for the Crown Office and Procurator Fiscal Service said: "We are being kept updated in relation to the oil release and liaising closely with the departments investigating this incident."
There is a joint investigation being carried out by the UK Government's Department of Energy and Climate Change and the Health and Safety Executive.
In January, the company also had to halt production at its four Brent platforms after part of one of theinstallations fell into the sea.