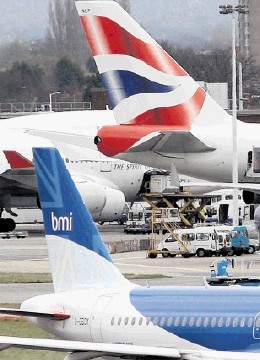 Scotland's global links would be strengthened if British Airways merged with part of BMI, representatives of the energy sector in the north and north-east were told last night.
BA chief executive Keith Williams said the deal would be good for Scotland at the Energy Institute (EI) Aberdeen, Highlands and Islands branch's annual dinner in Aberdeen.
Nearly 400 people were at the EI event in the Marcliffe Hotel in the Granite City and heard that BMI's routes to Scotland 'probably would have ceased' had BA's parent, International Airlines Group (IAG), not stepped in. Mr Williams said: "The acquisition (of BMI's mainline business) – if it proceeds – offers some potential for British Airways to improve Heathrow's links to long-haul destinations, while maintaining high levels of frequency and capacity on services between Scotland and Heathrow.
"In this way, we would be able to strengthen Scotland's global connectivity, irrespective of the pace of progress on the wider issues of how the UK's hub airport capacity can be expanded."
Mr Williams described BMI as "chronically loss-making" and said Lufthansa would probably close the airline down and sell its assets if the deal collapsed, adding: "In that scenario, it is likely that the Heathrow slots used by BMI on Scottish routes would largely be bought by foreign carriers and switched to long-haul services."
Brenda Dulaney, managing director for Chevron's upstream business in Europe, also spoke at last night's event and said the UK Government should provide the oil and gas industry with a more stable fiscal regime because of its economic importance. She said oil and gas firms contributed £8.8billion in tax in the past financial year, making up 20% of corporation tax received by the Exchequer, adding: "As an industry we not only pay our way without a penny of subsidy but also . . . create skilled jobs, develop technologies and support the balance of trade."