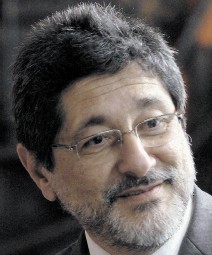 Petrobras has concluded negotiations for the charter and operation of 26 deepwater capability drilling rigs, all of which must either be built in Brazil or at the very least have a local content of 55-65%.
There are two contracts . . . one with Ocean Rig, essentially Norwegian though its corporate head office is in Cyprus; the other with locally owned Sete Brasil of which Petrobras is a 10% stakeholder. The deals are worth more than $76billion in total.
The semi-state operator has approved 21 rigs from Sete Brasil at an average day-rate of $530,000 and five dual-activity rigs from Ocean Rig at an average day-rate of $548,000.
Both contracts are scheduled to run for 15 years.
However, it has been reported that Petrobras expects to reduce the average daily rate to $500,000 for Sete Brasil and $535,000 for Ocean Rig.
Further cuts are possible, but on the basis that the parties manage to identify and agree on mechanisms for reducing operating costs.
The construction schedule for the rigs is aggressive with all deliveries set to fall within a timeframe of 48-90 months from the award of the contracts.
The build programme is to receive financial support from the export development agencies of Norway and the US.
The project also includes the construction of the new fabrication yards in Brazil needed to handle the work and upgrading of existing infrastructure as necessary.
Estaleiro Atlantico Sul shipyard (EAS) already has an order to build from Sete Brasil. EAS is a consortium formed by South Korea's Samsung Heavy Industries and local construction giants Queiroz Galvao and Camargo Correa.
According to Petrobras, the awarding of these contracts means that it has fully implemented its plan to build the rigs it needs for its massive deep-and ultra-deepwater exploration and development programme, especially for giant pre-salt oil reservoirs.