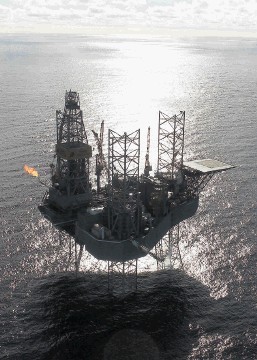 American drilling company Rowan is relocating from Delaware in the US to the UK, but it is not yet known whether the new headquarters will be in London or in Aberdeen, or how many jobs might be created.
However, the company's president and CEO, Matt Ralls, hinted that the Granite City may be the preferred location.
If so, this will greatly enhance Aberdeen's role as the largest upsteam oil and gas centre in the world outwith Houston.
The company already has substantial and growing operations based out of Europe's energy capital and it has enjoyed considerable success with its growing family of heavy-duty jack-ups.
The most recent arrival in the North Sea is the brand new super-jack-up Rowan Norway, which has gone on contract to energy minnow Xcite to test, drill-up and produce the Bentley heavy crude field located in the outer Moray Firth. Operations start-up is imminent.
The offshore drilling industry is a global business and Rowan has been evolving into a much more geographically diversified company than it once was. This is reflected in where it earns its revenues.
The company estimates that about 81% of 2012 revenues will be derived from non-US operations, compared with just 10% in 2004.
Relocation is expected to lead to an even greater diversity of operating areas. This in turn could further dilute the US content of the firm's contracts book.
A statement about the move issued to the US stock markets said: "By making the company more competitive and enhancing its ability to reinvest in its business, Rowan expects that, over the long-term, the proposed plan will lead to further growth and job creation in the US and globally.
"This plan will have no effect on employees' jobs, wages, or current benefits.
"Rowan's board of directors believes the plan reflects and reinforces many operating benefits from its growing base of activity in the UK.
Relocation benefits include:
o Improving access to key customers in the UK, Europe and Egypt, which collectively comprise 59% of Rowan's contract backlog;
o Enhancing the company's ability to further expand in the North Sea and other markets by continuing to build an efficient shore base from which to reach its rigs and communicate with key customers in those important markets;
o Improving the general perception with customers and the investment community that Rowan is a global contract driller with an increasing focus on international markets, which generally offer longer-term contracts, a stronger backlog and more predictable cash flow; and
o Allowing Rowan, over the long term, to remain competitive with the effective tax rates of its global competitors, most of which are domiciled outside the US.
Ralls said: "The offshore drilling industry is a global business and we have been evolving into a much more geographically diversified company.
"With this change in our structure, we formally recognize that the base of operations we first established in the UK more than three decades ago is now a central and efficient location from which we manage the markets that will be our largest source of revenue this year.
"The changes we are making will increase shareholder value over time by improving our competitiveness as a global contract driller and by giving us greater flexibility to manage our global operations.
"Our industry has already moved in this direction, and over the long term, by making the company even more competitive, we can grow and reinvest in our business, leading to the creation of more high-paying jobs both in the US and in the other markets we serve."