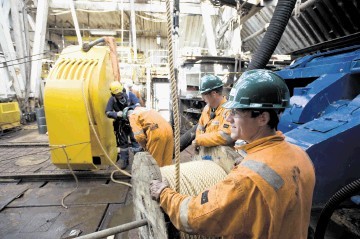 Trade unions are threatening to cause chaos in the North Sea offshore industry by ordering members to work only 48 hours a week.
The groups are considering taking the action as part of the next stage of their fight for paid holidays for thousands of workers.
The move has been discussed at a series of meetings after the UK Supreme Court ruled in December that offshore shift patterns do not breach European working-time rules.
The decision brought a seven-year legal battle in Britain's courts to an end, but union bosses vowed not to back down.
They argue offshore staff work about 328 more hours a year than the average worker and their holiday entitlement under EU rules cannot be counted during time when they are onshore anyway and not contracted to work.
Industry leaders say workers spend an average of at least 26 weeks a year onshore, more than meeting the legal requirement for leave.
Jake Molloy, RMT official and general secretary of the Oil Industry Liaison Committee, represents 5,500 members in the sector.
He said union members had met in recent weeks in Glasgow, Aberdeen and Newcastle, with further meetings scheduled in Inverness and Aberdeen.
A strategy is expected to be agreed at a summit in Dundee in May, after the issue is raised at next month's STUC congress.
As well as instructing members to work no more than the equivalent of 48 hours a week, another option being explored is taking their case directly to the European Court of Justice.
Union lawyers are investigating the "Francovich case", where the court in Luxembourg ruled that individual countries could be liable to pay compensation to people who suffered a loss if the state failed to turn an EU directive into national law.
Mr Molloy said: "There's a lot of angry people. It's ongoing. We've got two camps. One is to try to pursue further legal action and the other is to have a right go at industrial action and go to a ballot.
"If all workers refuse to work beyond the 48-hour limit the industry will be in serious bother."
The last industrial action by workers in the North Sea came in 1989 and 1990 in the wake of the Piper Alpha disaster over health and safety practices.
Alix Thom, employment and skills issues manager at industry body Oil and Gas UK, said: "This first came before a tribunal in 2007 and, after more than six years of litigation, it is disappointing to hear that the issue is still being pursued by the RMT."
Recommended for you

'Staggering situation' as UK regulators not investigating North Sea rig incident