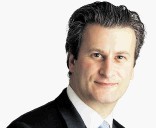 Cairn Energy said yesterday it made losses of more than £750million during 2011 but saw multibillion-barrel potential for oil in Baffin Bay offshore Greenland.
The Scottish firm added it was poised for transformational exploration within a well balanced asset portfolio.
Edinburgh-based Cairn described 2011 as a watershed year, with the sale of a controlling 40% stake in Rajasthan-focused Cairn India for £3.4billion leaving it in a strong position for "new strategic directions".
About £2.2billion was returned to Cairn Energy shareholders after the deal with mining company Vedanta Resources.
Posting annual results, Cairn Energy said its remaining 22% holding in Cairn India – valued at £1.83billion by the Indian market – and cash reserves of more than £750million provided financial flexibility and an excellent platform for the firm to pursue future growth opportunities.
The company is now leading the way in exploring the potential for oil in the Arctic region.
It operates about 80% of the currently-contracted exploration acreage in Greenland, where major oil companies such as Shell, Exxon, Statoil, Chevron, ConocoPhillips, Maersk and GDF have established a presence.
Of the 14 wells drilled by the industry in Greenland so far, eight have been by Cairn.
The firm has yet to find commercial quantities of oil in the area, but said yesterday all of the ingredients for success in Greenland were there.
Chief executive Simon Thomson added: "A number of exciting play types have been identified on the Pitu block, which is geographically separate from other parts of west Greenland.
"All of the exploration evidence acquired to date points to the Baffin Bay basin being oil generative and having multibillion-barrel potential."
Seismic, 3D and geochemical seabed sampling surveys last summer have led to Pitu becoming the main focus of Cairn's exploration activities this year, in partnership with Norway's Statoil.
Cairn's results showed pre-tax losses of £750.37million from continuing operations, compared with losses of £191.55million in 2010.
The firm made profits of £3.63billion from discontinued operations during 2011.
Operating losses in the latest period widened to £716.88million, from £188.56million previously.