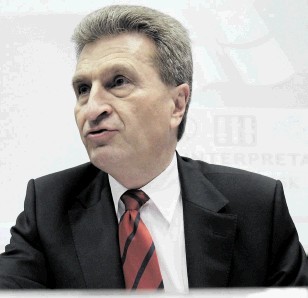 The European Commission (EC) claimed yesterday that the Elgin gas leak underlined the need for Brussels to take regulatory control of the North Sea industry.
European officials want blanket health and safety rules for all EU countries and said the Total leak showed even the best health and safety regimes could be challenged.
The UK oil and gas industry and First Minister Alex Salmond rounded on the EU last night, however, and said Total's response to the danger proved UK regulations worked. In the wake of the Deepwater Horizon disaster in the Gulf of Mexico, EU Energy Commissioner Gunther Oettinger said a new system was needed because the likelihood of a major offshore accident remained high.
The commission said yesterday: "The latest incident confirms the safety of offshore operations remains a critical issue in the EU and can be challenged even in the jurisdictions with the most advanced regulatory regime. EU-wide legislation, as proposed by the European Commission and Energy Commissioner Oettinger in October last year, is the most effective way of ensuring that the learnings from this incident, once available, lead to improvements not only in the UK but all member states with offshore operations within their jurisdictions."
Speaking in Aberdeen last night, Mr Salmond pointed out the evacuation procedures had been a success.
He added: "The priority right now is not grabbing responsibility, it is to support the company in bringing the gas flow under control.
"After that we can investigate this serious incident, and only then can we draw conclusions based on evidence, not supposition."
Industry body Oil & Gas UK (OGUK) said it remained concerned about the EU proposals.
Chief executive Malcolm Webb said: "OGUK supports moves to improve safety standards, the commission's proposal to dismantle the UK's exemplary safety regime is likely to have the opposite effect."